Kapu patriarch Mudragada Padmanabham was arrested on Thursday at Kirlampudi in East Godavari district of Andhra Pradesh, where he had launched his indefinite hunger strike demanding reservation for his community and release of the accused in the Tuni train burning case.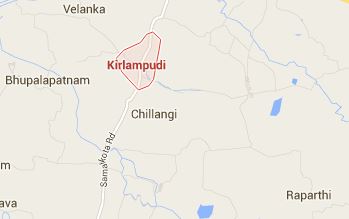 Image courtesy: Google map
Tension erupted in the village as thousands of Kapus had reached the protest site and tried to obstruct the police when Mudragada was being shifted in an ambulance. Police resorted to lathi charge to disperse the protesters. Police cordoned-off the entire village and restricted the entry of outsiders at all check posts.
High drama prevailed in the area as Mudragada threatened to consume pesticide and commit suicide if the police tried to arrest him and demanded that the police show him proper arrest warrant from the CB-CID as the cases against him were under its purview and not the local police.
The CID team managed to break into his residence and take him into custody after much effort. Mudragada's wife Padmavathi who was also sitting with him on Deeksha was spared.
Mudragada is the main accused in various cases related to the Tuni train burning incident. He is likely to be presented before a magistrate in due procedure. Five youth were arrested two days back by the state CID in connection with the violence and remanded in judicial custody till June 21. Mudragada had fixed a deadline till Wednesday night for the release of those arrested.
The agitation by the community, spearheaded by Mudragada, seeking inclusion in the Backward Classes category, had turned violent on January 31 at Tuni when the protestors went on a rampage setting on fire a passenger train, a police station, and police and private vehicles.
Mudragada wanted reservation for the Kapu community in education and jobs in the state. He accused Chief Minister N. Chandrababu Naidu of 'ignoring' the assurances given to Kapus.