Almost 25 percent of the Indian population lives in cities and by 2025, it is likely to grow to 33 percent. Migration to cities is a common phenomenon, accelerating at an alarming rate in developing economies. Cities are transitioning -- from an agglomerate of villages to megalopolises. The Creativity World Forum (CWF) -- an annual conference of 13 most creative and innovative regions across the world, in 2016, hopes to address the challenges and opportunities of the cities in transition.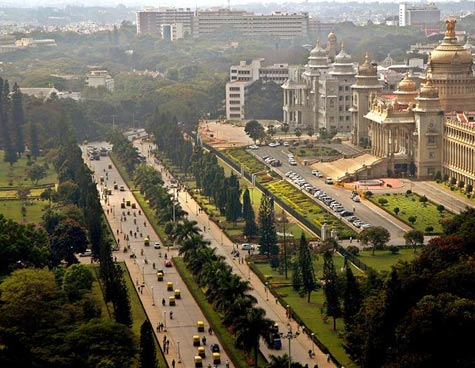 (File) A snap of Bengaluru city | Reuters
The two-day event organised by the District of Creativity(DC) Network (founded in 2004) was inaugurated by the minister for higher education Basavaraj Rayareddi on Tuesday in Bengaluru.
"Transitions create immense opportunities for economic growth, transition of social structures and living conditions. But at the same time, they also throw challenges like inequity, social pressure and environmental degradation among others. CWF 2016 will highlight and work out solutions with people who have contributed to the development of modern cities. Better ways to create clean-energy cities, affordable and adequate healthcare, education that creates equal opportunities, governance for a vibrant and health city, smart structures that fuel building of new cities like Amaravati in Andhra, eco-friendly and efficient public transport systems for better mobility, and use of enabling technologies, social engineering to reduce tension and build cohesion will be explored," said H.S.Jamadagni, technical program chair of CWF 2016.
Pascal Cools, director, Flanders DC, Belgium said that the forum brought together progressive thinkers, experts, inventors, practitioners, innovators, thought leaders and entrepreneurs from all over the world on a single platform to engage, unite and inspire individuals to work together across disciplines to ideate and develop new solutions to critical issues in improving regional economy and quality of life.
Earlier, Rayareddi said, "I understand Karnataka has been a founding member of the Flanders District of Creativity. Karnataka is also home to several innovations and creations which are technological marvels likes strides in space and aerospace segment, health care among others. The state has the right ecosystem for creativity and innovation as it houses prestigious R&D facilities like Indian Institute of Science (started in 1909) and ISRO. A majority of the science and technology based public sector companies such as HAL, NAL, BEL, ITI, HMT, BHEL operate from the state. It is the epicenter of information technology revolution in the country. Karnataka is the startup capital too."
IT minister Priyank Kharge said the theme "cities in transition" fits Bengaluru well because Bengaluru has undergone a quick transition from a pensioner's paradise to a global city. Moreover, the Indian government is also focused on developing smart cities. "Karnataka has been on the forefront in helping India become the global leader in IT and ITeS space. The state contributes one-third of the IT exports from the country and employs over 10 lakh people directly and more than 30 lakh people indirectly. The global startup ecosystem ranking report 2015 says that Bengaluru is home to over 4,500 active tech start-ups with an average valuation of 3.3 million USD. Bengaluru is a symbol for creativity, innovation and entrepreneurship."