The campaigning for MCD polls, slated for Sunday, came to a close on Friday, with every political party in the fray giving it their best. Aam Aadmi Party (AAP) leader H.S.Phoolka held a road show and did a padayatra in the wards of Rajouri Gardens.
He, along with other leaders, braved the 41 degrees sun. To beat the heat, most leaders preferred to campaign after sunset in the last few days. What probably gave them the courage to carry on, unmindful of the temperature, was the fact that the AAP had lost the assembly seat from this constituency, to the BJP, in a recent by-election.
There were women and pre-school kids, wearing AAP's caps and sash, cheering for the party. Releasing the party's internal survey on Thursday, leader Ashish Khetan had maintained that AAP would win 218 of the 272 wards. Claiming that 31,000 people had participated in the survey, Khetan said that, according to the survey, the BJP would romp home in 39 wards, the Congress in 8, while others would be elected in 7 seats.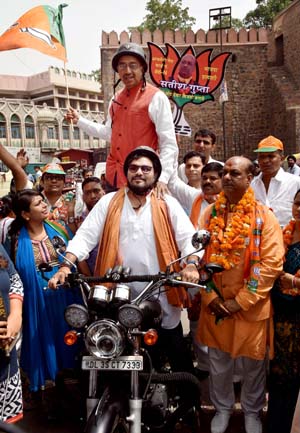 Union ministers and BJP leaders Vijay Goel and Babul Supriyo during a campaign for MCD elections | PTI
The BJP had, on Wednesday, maintained that the AAP was not releasing their survey for fear of demoralising their workers. "Their findings have left Chief Minister Kejriwal scared. It has predicted that BJP will win more than 200 seats," said Delhi BJP spokesperson Tajinder Pal Bagga.
As AAP blamed BJP for the garbage issue, a big talking point in the civic polls, BJP urged people to clear "the biggest filth in Delhi, Kejriwal".
The Congress has been plagued by desertions, and to make it a psychological war against the party, BJP continued to welcome disgruntled leaders to join their fold. All Thursday, Twitter was abuzz with "reports" that senior party leader Kamal Nath was set to join BJP. Madhya Pradesh Chief Minister Shivraj Singh Chauhan denied it. The Congress leader too dismissed the report.
Many leaders led by former Delhi minister Arvinder Singh Lovely switched sides in the last few days. And it did not help that Delhi Congress' mahila wing leader Barkha Singh's publicly name-called party vice president Rahul Gandhi, leading to her expulsion, just as the curtains fell on the campaign.
BJP, on its part, had to expel about 20 former councillors and party leaders who contested against the party nominees. But the party, piggybacking on Prime Minister Modi's promises, put up a spectacular show in the finale. Actor Manoj Tiwari, president of the Delhi unit of BJP, sat in an e-rickshaw that made its way from a Muslim-dominated ward in Saket, to the Kalkaji metro station.