Neither Congress leader Capt Amarinder Singh nor Delhi Chief Minister and Aam Admi Party Chief Arvind Kejriwal would ever visit every village of state to meet people and redress the grievances of masses. For that matter, no other chief minister in the country will do that, claimed Punjab chief minister Parkash Singh Badal, in the course of a Sangat Darshan in his native Lambi village of Punjab on Friday.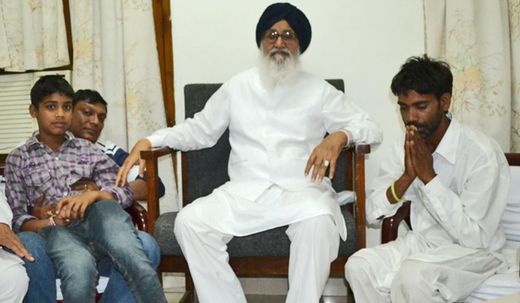 Sangat Darshan literally translates to "Appearance before the People". Badal, in his 90s, appears before people in different constituencies, as he campaigns for his Shiromani Akali Dal, fighting incumbency of ten years. What makes him beleagured is the anti- Sukhbir Badal wave sweeping the state.
Till last time around, the contests were straight-between the SAD-BJP alliance, and the Congress. The left parties and the BSP remained in the periphery. This time around, the AAP has jumped into the fray and intends giving a tough fight. Add to that Navjot Sidhu's new front—the Aawaaz-e-Punjab.
"If voted to power, both these parties will discontinue several pro-people schemes and subsidies being currently given to people. So before casting your vote, carefully distinguish between your sympathisers and enemies so that your future is in safe hands," says Badal before listing the schemes and initiatives launched by his government. He talks of the Atta-Dal, Pension, Shagun, Mai Bhago Vidya Scheme and Bhagat Puran Singh Sehat Beema Yojna He points out that the state government is giving free power to farmers and weaker sections of society worth several thousand crore rupees annually.
Badal lashes out at his rivals. "Both Congress and AAP have a proven track record of being anti-poor and anti-Punjabi. If these parties are voted to power they would discontinue all these schemes thus leaving hapless beneficiaries in lurch." Citing the examples, he says that during his stint as chief minister, Captain Amarinder Singh had discontinued free power to people and welfare schemes were a distant dream. The AAP government in Delhi has done nothing tangible on the welfare front while its leaders in Punjab are insulting beneficiaries of pro- poor schemes by terming them as beggars, says Badal.
"These people are virtually good for nothing and the future of people especially from poor strata of society can never be safe in their hands," he roars.
On the formation of new fronts in the state, the chief minister forseees many more such groups. People without any administrative experience, contribution and sympathy towards state are forming such groups, which would hardly have any impact on state's polity, he says. "Many more such groups will emerge before the polls but the electorate will outrightly reject them," he adds.