CPI(M) patriarch and former West Bengal Chief Minister Budhhadeb Bhattacharjee is all set to share dais with Congress Vice President Rahul Gandhi at an election rally in Kolkata on Wednesday.
The Congress leader will visit the state for the last leg of his campaigning for the remaining two phases of the Assembly polls for 75 seats to be held on April 30 and May 5.
A CPI(M) leader confirmed that both the leaders would address the rally from the same stage. "Yes. Both the leaders would share dais. They would show a joint strength of alliance," he said in Kolkata.
Interestingly the two leaders will share dais after CPI(M) leader Prakash Karat leaves Kolkata.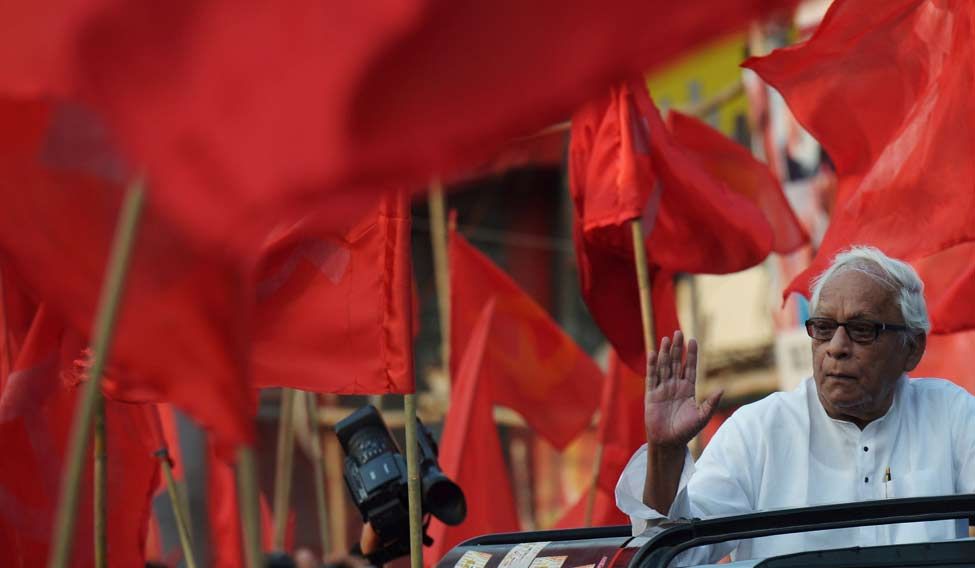 Buddhadeb Bhattacharjee addresses a public meeting in Kolkata | AFP
However, it was not clear whether politburo member Surya Kanta Mishra will also share the dais with Rahul at Park Circus. Buddhadeb, considered to be party's tallest leader in the state, is not a politburo member but a permanent invitee in the central committee.
The rally in Park Circus will be in support of Bhawanipore candidate of Congress Deepa Dasmunshi and CPI(M) candidates Satarup Ghosh in Kashba and Sujan Chakraborty in Jadavpur.
Congress leader Somen Mitra was elated when he said: " It's a great news. Both the leaders should come together."
According to sources, CPI(M) calculates that a good show in remaining two phases of the polls could lead the Congress-left alliance near to win. So there could be no inhibition.