The mob mentality strikes Indian Twitterers again. The furore was over an image depicting a popular Hindu mythology scene from Mahabharata. This time though, the outrage was misdirected. Myntra, online fashion app that is now owned by Flipkart, was targeted for an ad that it did not release.
The gullible lot on Twitter got #BoycottMyntra to trend early noon on August 26. On the occasion of Krishna Janmashtami, ScrollDroll, an online viral media site, released a set of 'art work' depicting Indian mythological characters using popular apps.
The illustrations included Hanuman posting a selfie on Instagram, Ganesha looking for modak on Zomato, and the 'offensive' image of Krishna looking for 'extra long sarees' on fashion app Myntra during Draupadi's vastraharan.
While the image clearly has the ScrollDroll logo, many assumed that it was a Myntra ad, and viciously attacked the company for 'insulting Hindu sentiments', calling for a boycott of its app and products.
ScrollDroll issued an apology, and said that the image was in no way commissioned by the fashion app. Myntra also said that they would take legal action against ScrollDroll.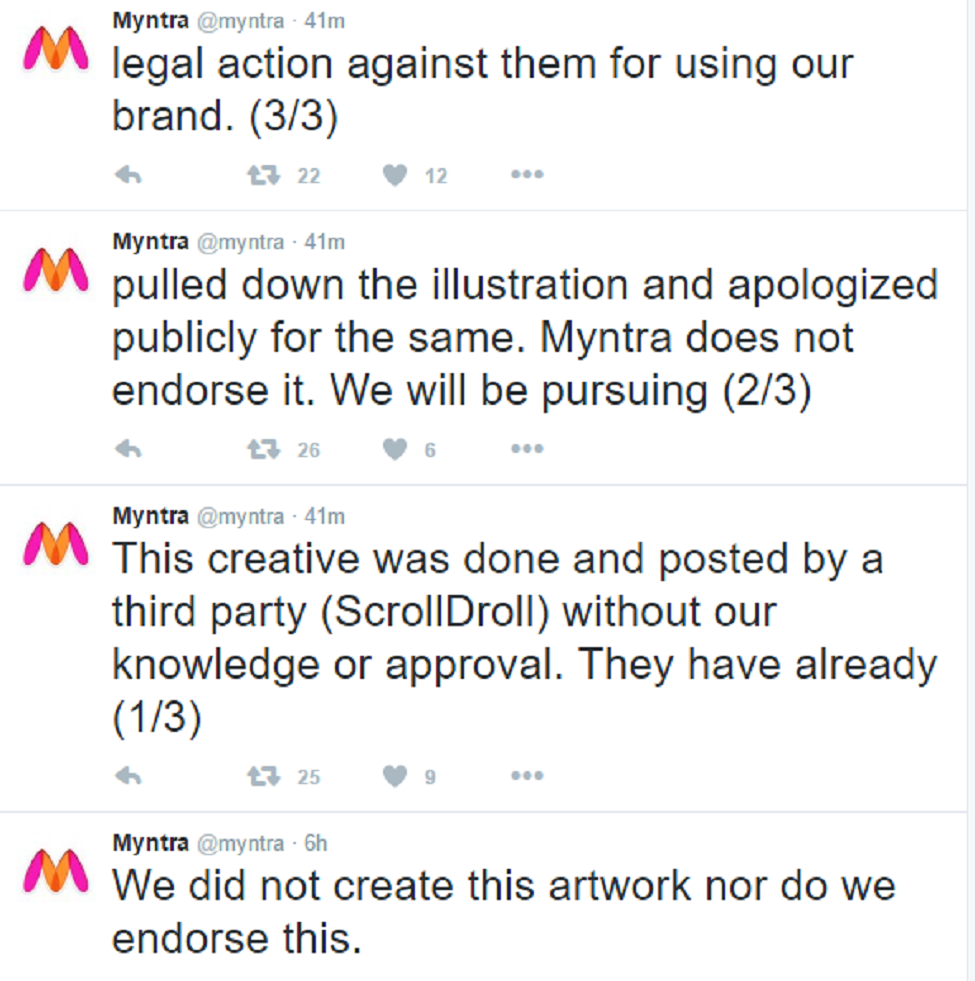 Even after distancing itself from the controversial image, a lot of people on Twitter continue to bash Myntra. The collective rant ranges from unrelated comments on the quality of the clothing sold to blaming the company for being insensitive to Hinduism. Here is a round-up of those who took offence, albeit blindly:
According to Myntra, the images were taken down by ScrollDroll, but the barrage of criticism didn't stop.
A Twitterer immediately sent a legal notice to Myntra:
Some people tried to enlighten the enraged crowd:
Saw #BoycottMyntra trending. Searched a little and got to know that the ad wasn't even created by them. Twitter outrage I tell you!

— LOLendra Singh (@LOLendraSingh) August 26, 2016
Idiots can't even boycott the correct website. It was Scroll Droll who made the cartoon series & ppl are shouting #BoycottMyntra. Typical 😂

— That Goan Boy (@schmmuck) August 26, 2016