A video, that has gone viral on the social media, shows a young boy being paraded naked to please rain god at a drought-hit village in Karnataka.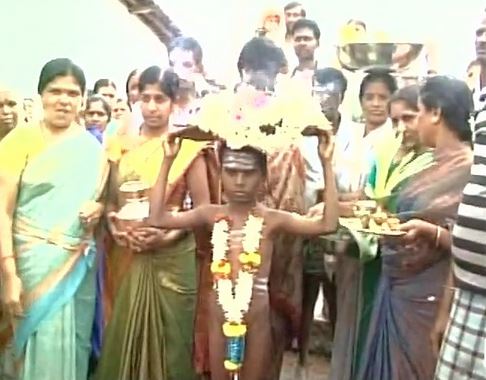 Image source: Twitter/ANI_news
The bizarre ritual reportedly took place at Pandarahalli in Chitradurga district on June 10.
The boy was made to wear a garland, carry an idol of Lord Ganesha and walk naked through the streets, while the villagers were seen chanting hymns to please the rain god. The boy was later offered new clothes.
Though the video has attracted criticism from different corners, villagers claim that the ritual has been prevalent in the society for long.
"This practice has been going on for years. Even this year the rain was less. So, some villagers thought of holding the tradition," said one of the villagers.
Chitradurga has been one of the worst drought-affected regions of the state, where drinking water had to be supplied for months through tankers.