The political war over the educational qualification of Prime Minister Narendra Modi escalated further on Monday with the Bharatiya Janata Party releasing copies of his degree certificates and demanding an apology from Delhi Chief Minister Arvind Kejriwal.
Kejriwal had earlier alleged that Modi had not done BA degree in Delhi University as he claimed in his affidavit. Releasing the documents at a press conference in New Delhi, BJP chief Amit Shah and Finance Minister Arun Jaitley accused Kejriwal of trying to politicise the issue.
However, the Aam Admi Party came up with an immediate reactions saying the degrees released by the saffron party are fake and forged as the names and years of the documents don't match. Party leader Ashutosh asked Shah and Jaitley to apologise for showing 'fake' documents.
Earlier, releasing the documents, Amit Shah said Kejriwal tried to turn a blatant lie into truth and create confusion among public by saying PM's degrees are fake. He said Modi did his BA from Delhi University and MA from Gujarat University.
"Arvind Kejriwal ji has not only lowered down the standards of public life but has also defamed the nation across the world," Amit Shah said and added that he will write a letter to the Delhi CM seeking his apology.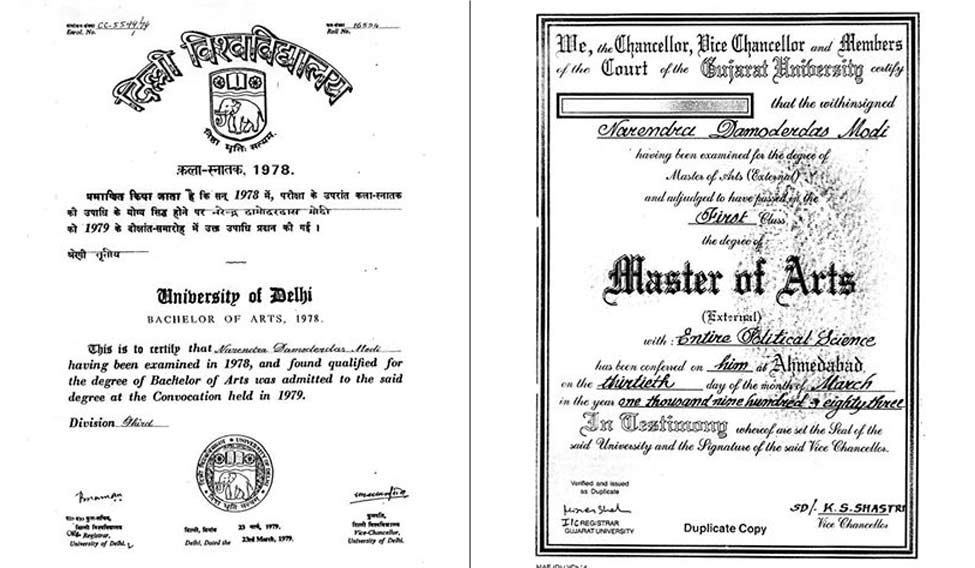 Jaitley also slammed Kejriwal saying that making such public statements and attacking someone without checking the facts is a very lowly thing to do. He even said the kind of allegations that have been levelled against Modi threatens federal polity in the country and such attempts should be defeated strongly.
The finance minister shared memories of Modi coming to take his Delhi University exams during the Emergency of 1975-77. "I knew this because I was the student union leader in Delhi university soon after the Emergency," he said.