Bengaluru launched the 'Big Latch On' campaign on Saturday. The city has joined the league of global cities pushing for open breastfeeding. A gathering of women at a city hospital hoped to send a clear message, "Breastfeeding is a matter of pride, not shame". The new mums came together to breastfeed in open. They offered peer support, sensitised their friends, family and community to promote breastfeeding.
The event encourages forming support networks between breastfeeding women and aims to normalise breastfeeding as a part of daily life.
Sadly, only 47 per cent of babies born in IT city Bengaluru are breastfed within one hour after birth, according to a recent survey by the ministry of health. The uptake of breastfeeding has also reduced in cities and metros. This is attributed to nuclear families, working parents and lack of support network.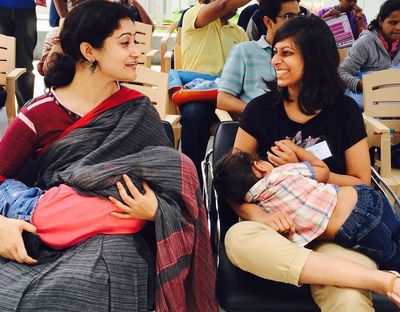 Mothers breastfeeding their babies at the Big Latch On in Benglauru
The World Health Organisation (WHO) recommends starting breastfeeding within one hour after birth until a baby is six months old and continuing to breastfeed for two years or beyond. This year, the focus is on supporting new mums to "breastfeed anytime, anywhere".
Dr Prakash Vemgal, director of pediatrics and neonatology, Rainbow Children's Hospital, Banneraghatta road, said, "The event aims to promote breastfeeding as the best way to provide infants with the nutrients they need and also remind the society that it has a role to play in making communities breastfeeding-friendly."
Dr Ambika, clinician warned that the first hour of a baby's life was most fragile, as it is at greatest risk of developing complications. Sadly, it is also the time when the baby is deprived of what is most crucial—the breastmilk.
In India, only 41 per cent of moms initiate early breastfeeding. At the same time, around 16.5 lakh children die every year due to easily preventable diseases. Early initiation of breastfeeding alone can save the lives of 13 per cent of babies. "Many women shun offering breast milk to their babies. It is time to raise awareness on the importance of breastfeeding," said Dr Ambika.
On the occasion, a book, Right start—Art of Breastfeeding, authored by neonatologist Dr. Prathap Chandra, was launched. The book is a ready reckoner to understand the right position to hold the baby while feeding, ways to increase milk production, diet during lactation and expressing breastmilk and storage techniques.