Security forces in Kashmir Valley are trying to hunt down terrorists who attacked two adjoining camps of Army and the Paramilitary forces at Baramulla in Jammu and Kashmir. The attack on Sunday night had claimed the life of one BSF jawan.
"The terrorists were taking position and firing. Ideally, we should have gunned them down, but they managed to flee. Under heavy firing from our side, they could not inflict any damage and breach the camp security and we could foil their designs," BSF IG (Kashmir ) Bikas Chandra said.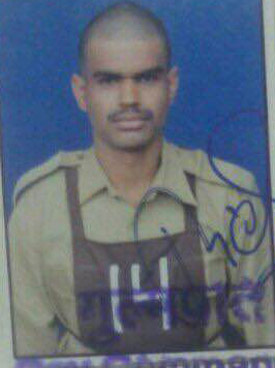 Martyred BSF jawan Nitin
A BSF constable, identified as Nitin, was killed and another sustained injuries in the attack. Both belonged to the 40th battalion of the BSF.
Heavily armed terrorists hurled grenades as they entered the Rashtriya Rifles premises from the adjacent BSF camp. Denying reports that two terrorists were killed in the gunbattle, top sources said the assailants fled under the cover of darkness.
The attack comes two days after Central Intelligence agencies warned that terrorists had already entered the Valley and might carry out strikes. Intelligence inputs had indicated that militants might target security forces and civilians.
Meanwhile, Home Minister Rajnath Singh, who is visiting Ladakh, said his government would give a fitting reply to the terror attacks on security forces.
Intelligence officials said the recent surgical strike by India has forced the sleeper cells of Lashkar-e-Taiba to shift base, rising the hope that the terror infrastructure, running from PoK, will not be able to retaliate much as India carries out its operations to hunt down terrorists.
Intelligence security sources said some other terror camps were also targeted while agencies were busting ISIS modules.