Shiv Sena leadership is most likely to announce its battle cry for Mumbai municipal elections scheduled to be held in early 2017
Even as it completes 50 years of socio-political activity on Sunday, Shiv Sena, Maharashtra's original party of sons of the soil, is all set to activate its massive cadre base in order to retain control over its fortress, 'Aamchi Mumbai'.
For Shiv Sena leadership, losing control of Mumbai is simply unthinkable. Party president Uddhav Thackeray has been working in a single minded manner to make Shiv Sena number one party in Maharashtra ahead of 2019 assembly elections. That is why retaining control over Mumbai assumes much significance in Shiv Sena's scheme of things.
Founded on June 19, 1966, Shiv Sena will celebrate its foundation day with a grand rally that will be addressed by party president Uddhav Thackeray and his 26 year-old-son Aditya. Interestingly, the Bharatiya Janata Party, its saffron ally in power at the Centre and in state, hasn't been invited for the celebration.
In 1966, when it was formed by Uddhav's father, Shiv Sena Pramukh, Balasaheb Thackeray, the newly founded outfit didn't have political ambitions. Eighty per cent social work and twenty per cent political activities, was the clear focus of Shiv Sena in those days. Much, however, has changed in the last five decades. The party is currently enjoying its second stint in power, as a junior ally of the BJP, a reversal of fortune of sorts as Shiv Sena was the senior partner in first ever saffron government in Maharashtra during 1995-1999.
It is not a secret that Shiv Sena doesn't like the junior partner status. It has never missed an opportunity to take potshots at Narendra Modi-led central government and Devendra Fadnavis-led state government. Many eyebrows were raised recently when Shiv Sena openly demanded resignation of senior BJP leader and revenue minister Eknath Khadse after he faced allegations of misusing his position for the benefit of his family in a land deal in Pune district. Then, at a function in Aurangabad, Shiv Sena MP Sanjay Raut likened Modi government rule to the reign of Nizam, a much resented period for people of Maharashtra's Marathwada region. And now, the party has chosen to ignore the BJP altogether during its 50th anniversary celebrations.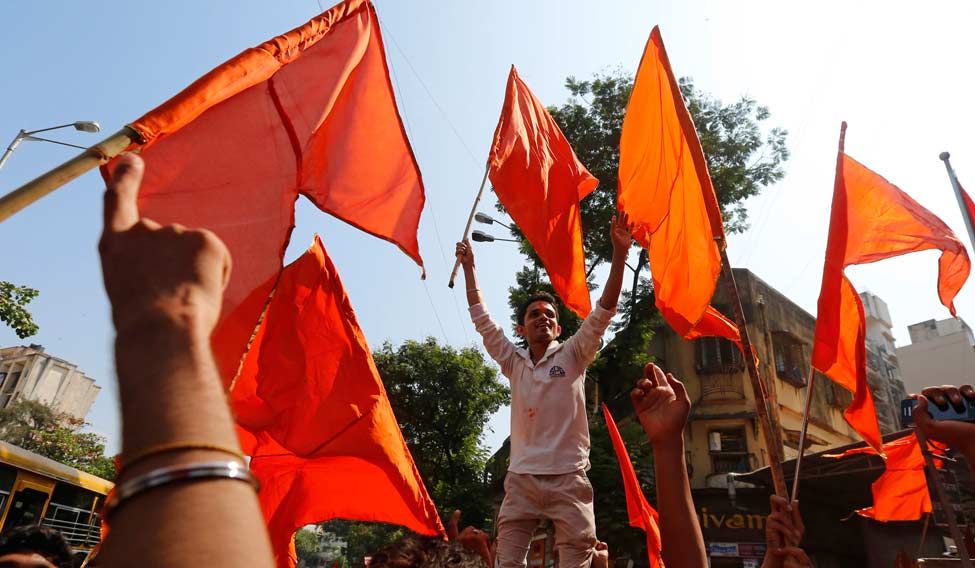 Shiv Sena has chosen to ignore the BJP altogether during its 50th anniversary celebrations | Reuters
Even as it continues to be in power, it behaves like an opposition to ruling BJP in Maharashtra. This appears to be a carefully worked out strategy as Congress-NCP-led opposition hasn't been able to coordinate its efforts in cornering Fadnavis government. Congress is now showing a streak of aggression but same is not the case with NCP. The two opposition parties which ruled Maharashtra for a decade and a half are simply not on same page when it comes to targeting Fadnavis government. Shiv Sena is using this opportunity as best as it can. The hard hitting editorials in party mouthpiece Saamna provide ample proof.
Another reason for Shiv Sena's targeting of BJP is latter's ambitions to wrest control of the Brihanmumbai Municipal Corporation from Shiv Sena. Mumbai and BMC which runs the affairs of the metropolis are strong bastions of Shiv Sena. After they contested 2014 assembly elections separately and still managed to beat Congress-NCP in Mumbai, BJP has been toying with the idea of dethroning Shiv Sena from BMC. BJP legislator and its Mumbai unit president Ashish Shelar has been targeting Shiv Sena quite aggressively.
Both the parties know very well that Sena's core vote bank of Maharashtrians can help the party win municipal elections in just about 60-65 municipal wards, out of the total 227. To keep its control over Mumbai in tact, Sena will thus need help from other communities as well. BJP on the other hand is banking on support from Gujarati-Marwari and North Indian Hindu voters. But these voters are known to support Congress too.
Whatever may be the case, an alliance between Shiv Sena and BJP ahead of Mumbai municipal elections in early 2017 looks a far fetched possibility. So when it celebrates its 50th anniversary on Sunday in Mumbai, Shiv Sena leadership is most likely to announce its battle cry for the elections.