She is only a Class XI student; but Dhanya Indraghanti of Rishi Valley School in Chittoor district of Andhra Pradesh has managed to bring in a revolution in women's hygiene.
Dhanya has given up using plastic sanitary napkins. Instead, she sews pads with old cloth. Apart from being environment-friendly, this decision, she says, makes her feel empowered.
And there is more. She hasn't shied away from speaking about menstruation and the use of cloth sanitary napkins. In fact, she has been encouraging her friends to follow suit.
Her idea isn't a new one. In rural India, where buying sanitary napkins was not an option because of the lack of availability and cost, sanitary pads made out of cloth was de rigueur for a generation.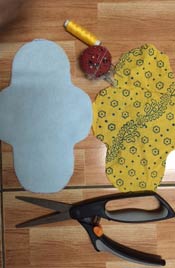 Dhanya says she had no idea about sanitary napkins made of cloth until she was in Class IX. She came to know about it when one of her teachers spoke about it in the class. She was impressed by the idea and decided to opt for cloth napkins.
Her sister, who hasn't yet started using cloth napkins, told Dhanya that the plastic used for making disposable sanitary napkins ends up in landfills and takes over 700 years to decompose. She decided to make her own sanitary pads with the help of her mother Madhavi who, according to Dhanya, can "sew anything".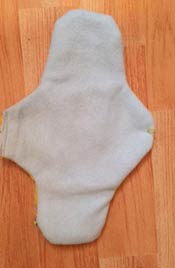 Dhanya's parents live in Doha and she goes there only during holidays.
Dhanya found stitching the cloth pad fairly easy. An old cotton skirt was used for the outer layer and the inner layers were cut out from an old pair of pyjamas. "I've stitched most of her pads on an automatic sewing machine," says Madhavi.
Dhanya realised that homemade pads are softer than those bought from stores and felt happy as she was not using the chemical-laden plastic pads anymore.
However, her choice to stitch her own pads met with ridicule from her roommates as she had to wash the pads and dry them. They were also not convinced by her argument that cloth pads were environment-friendly, as they felt that she was wasting water.
Dhanya was disappointed. She went back to using disposable pads, but only for a short while. The reactions of her friends made her think about the troubles faced by many women during the period of menstruation although it's just another biological process. This strengthened her resolve towards making sanitary napkins more eco-friendly.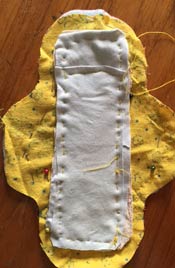 "I don't know if I have managed to convince my friends who were grossed out and considered cloth pads not eco-friendly. I think a lot of them are open to the idea now because there is a stronger initiative at the school to do away with plastic. Besides, I have been telling them that it does not take more than two or three mugs of water to wash them," she said.
"I was inspired by a teacher who had also spoken to my classmates. Actually, we have been having an ongoing discussion at our school and a few of our teachers are quite encouraging," she said, adding that the girls who were initially 'grossed out' by the homemade sanitary pads have been eager to use the same.
Now, Dhanya is planning to conduct workshops for girls at her school and in villages around Rishi Valley to teach them to sew their own cloth sanitary napkins.
Her mother is proud of Dhanya and her cause. "In fact, after seeing her determination to wash and reuse pads despite staying in a hostel, I myself have stopped using plastic pads and am urging my elder daughter to make a shift. We want the girls in the family to make a change, but, in conservative Indian families, it is even difficult to bring up the topic."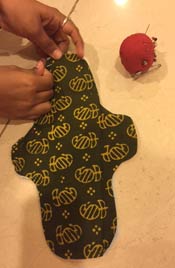 A cloth pad costs only Rs 18.25. "And, if you intelligently cut the fabric in bulk, say for 10 pads together, the cost comes down by about 20 per cent. It takes about 20-30 minutes to make a pad on a sewing machine while the same might take an hour by hand. Actual amount of time varies depending on expertise and other factors," Madhavi explains.
"These cloth pads are quite long-lasting. I've known someone who has been using the same cloth pads for over two or three years now. So, they are actually economically viable in the long run," says Madhavi.
The size can be chosen since it is tailor-made and, depending on one's flow, the length of the inner towel can be increased or decreased. The towelling material is sewn inside and needn't be thrown out. The idea is to use it over and over again.