The internal feud in the Samajwadi Party took a new turn with Chief Minister Akhilesh Yadav firing a fresh salvo on Wednesday in an attempt to counter the attack by his uncle and party's state president Shivpal Yadav.
In a letter written to his father and party's national president Mulayam Singh Yadav, Akhilesh made it clear that he would roll out his development chariot named Samajwadi Vikas Rath from November 3. His announcement gathers significance as the dates would collide with party's silver jubilee celebration which is set to begin on November 5.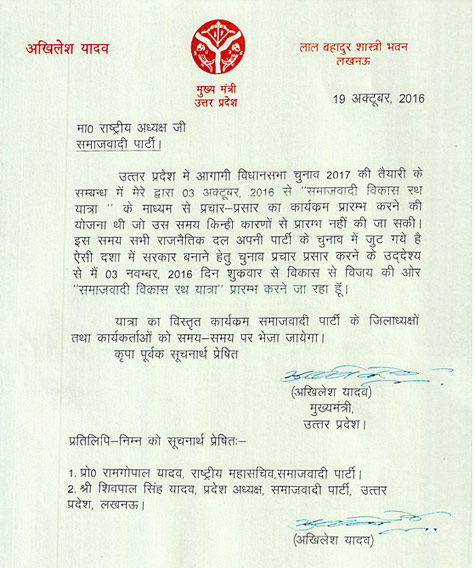 The new development is being interpreted in political circles that the chief minister wants to stay away from silver jubilee celebration as a mark of protest.
Akhilesh's decision is being viewed as a message sent to the party seniors. A section of youths, who support Akhilesh in his tug of war with Shivpal, has already threatened to  boycott the celebrations. They seem furious over expulsion of several youth leaders by Shivpal.
In a meeting held under Colonel Satyaveer Singh, head of 'Samajwadi Party Sainik Prakosht', several youths have expressed their solidarity with Akhilesh.
The CM has not been invited to SP's executive committee meeting to be held on Thursday. The party has convened a meeting of all its district heads on October 22, in which also, Akhilesh's participation is most unlikely.
Also read: It's official - Akhilesh is SP's CM candidate for assembly polls