"In these five years you would have seen the Chief Minister on stickers; you would have seen her on banners; you would have seen her on television; have you seen her in person? Why are you doing like this, Amma?"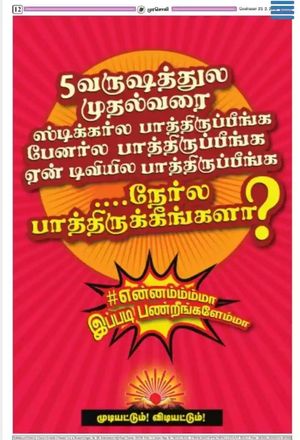 Ad by DMK
These are the lines of an advertisement seen in almost every newspaper in Chennai on Tuesday. The ad mad politicking in Tamil Nadu is more light and tongue in cheek. There is humour and also drives home a message about the issues that are likely to be brought up in the ensuing polls in the state.
These new ads were from none other than the DMK camp, fighting hard to take on the ruling AIADMK, by highlighting the failures of the Poes Garden diva Jayalalithaa Jeyaram. With their 2016 clarion call "mudiyattum, vidiyattum," meaning "let it end, let it dawn" this advertisement directly takes a dig at Jayalalithaa, criticising her rare public appearances and her absence in the public.
At a time when the election issues are fought through statements and through street meetings or public conferences, this ad from the DMK camp is said to be the first in the series of advertisements likely to be released before the elections. The DMK seems to have taken the election campaign to a new style with their ads.
For the first time, people in the state are all set to witness a tech savvy election where all politicians are likely to follow innovative campaign methods to reach the people. With three more months to go for the elections, such occasional light hearted barbs only show that the election has reached a feverish pitch.
"DMK is proving once again that it is well ahead of its opponents in taking the fight to the enemy's camp. Though election notifications have not been issued, DMK has started its blitzkrieg electioneering by advertising in all the major newspapers and attacking Jayalalithaa's performance in past five years," says senior journalist and political analyst R. Mani.
On the other hand, the AIADMK was quick in responding through its IT wing. "In these five years you would have seen Karunanidhi at marriage parties of actresses; you would have seen him at cultural festivals; you would have seen him in the (Kalaignar TV run reality show) Maanada Mayilada. But have you seen him in the Assembly, at least have you seen him in the Thiruvarur constituency, you Urad Dhal," reads the AIADMK counter ad. "What man, why are you doing like this. Let DMK end. Let Tamil Nadu see the dawn." In fact DMK caught it early as the front page in every other daily newspaper for Feb 24 has been blocked by the AIADMK for celebrating Jayalalithaa's 68th birthday.
While these advertisements clearly indicate that the fight is between the two Dravidian majors in this election, other parties too have pitched in with new tech savvy and catchy ads. The one from the Congress camp is a meme on Jayalalithaa and her government's action during the floods in Chennai.