A fresh confrontation between the Centre and the Aam Aadmi Party government in the national capital has begun after President Pranab Mukherjee rejected the dual office bill sent for assent by the state government. The bill aimed to give 21 AAP MLAs immunity by excluding the post of parliamentary secretary from the office of profit.
Top home ministry sources told THE WEEK that the MLAs face imminent disqualification after the proposed legislation has been turned down. "It is certain the MLAs will face disqualification under the People's Representatives Act by the Election Commission," said an official.
Reacting sharply, Delhi Chief Minister Arvind Kejriwal targeted Prime Minister Narendra Modi alleging that he does not respect democracy and was only fearful of the AAP. "There will be no effect of this bill being withheld on Assembly membership of our 21 MLAs," Raghav Chadha, spokesperson of AAP said.
Meanwhile, both Congress and BJP are trading their guns on AAP demanding resignation of the MLAs.
On March 13, 2015, the Kejriwal government had passed an order appointing 21 party MLAs as parliamentary secretaries. Soon after their appointment, a Delhi-based lawyer Prashant Patel had petitioned the Election Commission seeking disqualification of the MLAs. The 21 MLAs include Alka Lamba, Jarnail Singh, Adarsh Shastri and Rajesh Gupta.
For now, the MLAs have sought private hearings before the Election Commission which had earlier sought their replies.
As reported by THE WEEK earlier, this bill was amongst the nine bills pending with the home ministry sent by the Kejriwal government for approval.
The pending legislations were becoming a sour point between the MHA and Delhi government with the AAP accusing the ministry of deliberately holding back its bills.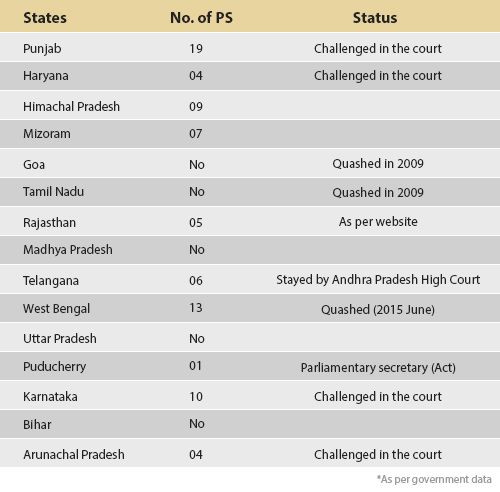 Sources said the Kejriwal government had proposed the bill despite the lieutenant governor Najeeb Jung's opinion that as per the Government of National Capital Territory of Delhi Act, 1991, the city can have only one parliamentary secretary attached to the office of the chief minister.
Months later, the AAP government sent the Delhi Members of Legislative Assembly (Removal of Disqualification) (Amendment ) Bill, 2015 to the MHA for president's assent.
The Centre said ''retrospective'' exemption for the parliamentary secretaries from disqualification provisions is not possible and would be legally untenable.
The stage is now set for confrontation after President Pranab Mukherjee, acting on the advice of the law ministry and ministry of home affairs, has refused to give his assent to the bill.
MHA's case against Kejriwal government's bill
• The West Bengal High Court quashed the parliamentary secretaries bill enacted by the West Bengal government in June 2015
• Similarly, the Goa bench Of Mumbai High Court quashed a similar bill passed by the goa assembly
• Punjab & Haryana, whose case AAP is citing, are in the process of hearing the petitions challenging the law