Chakkar Chalaaye Ghanchakkar, directed and designed by Salim Arif, is based on Shakespeare's play Comedy of Errors which has long been adapted on screen in several countries including India, when Gulzar wrote Do Dooni Chaar and Angoor in the 1960s and 1980s respectively.
An adaption for the theatre by the veteran lyricist, Chakkar Chalaaye Ghanchakkar is about two pairs of twins who get separated in childhood during a sea voyage and grow up separately. One SET of twins is named Ashok (Zeeshan Ayyub), while both children from the other set are called Bahadur (Swanand Kirkire). Why? Well, their father believed that since they look the same, they should be called the same too.
While one of the Ashoks, married to Sudha (Lubna Arif), lives with his wife and sister-in-law Tanu (Shruti Seth) in the same city with one of the Bahadurs, who is married to Prema (Sharmila Shinde), the other Ashok, a bachelor, ends up in another city with his servant, Bahadur. The separated twins finally meet when the bachelor Ashok visits the married Ashok for work, wanting to invest in property. A case of mistaken identity ensues across the city, including among the spouses and local jeweller, which finally ends on a light note.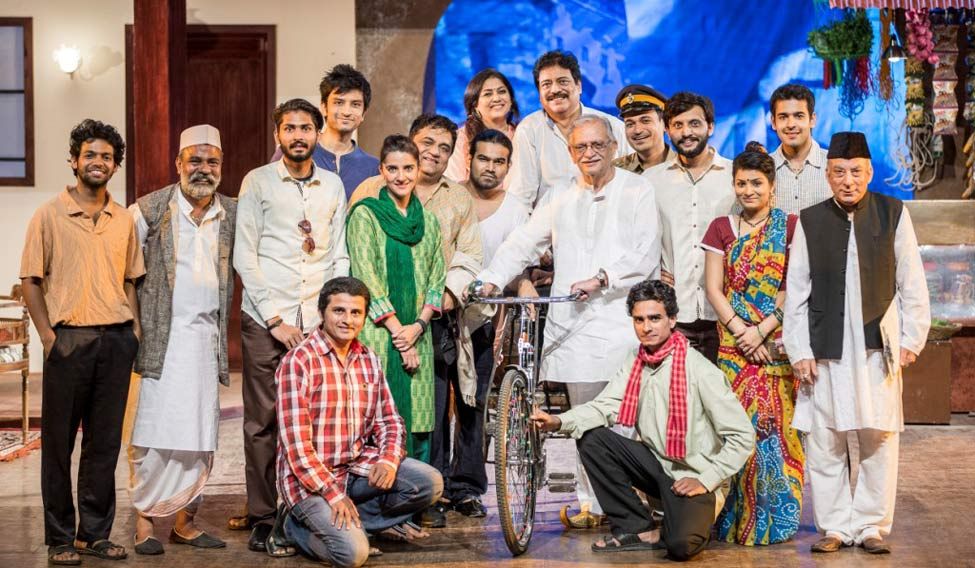 Chakkar Chalaaye Ghanchakkar'S entire cast with Gulzar
Contrary to its title, the play offers no engaging twists and turns. Trending on the same path as the old masala story of mistaken identity and long-lost twins from the Indian cinema of the earlier decades, the script doesn't offer anything new or differently woven insights. The play stretches into almost two hours with lack-lustre performances of a low-energy cast. The only saving grace is the set design and the performance by actor Mithilesh Chaturvedi as Mansoor Miyan, the jeweller's sidekick, delivering his dialogues in lyrical Urdu.