National Award winning Tamil lyricist, poet and writer Na. Muthukumar, who had scripted more than 1500 songs, died in Chennai on Sunday. He was 41.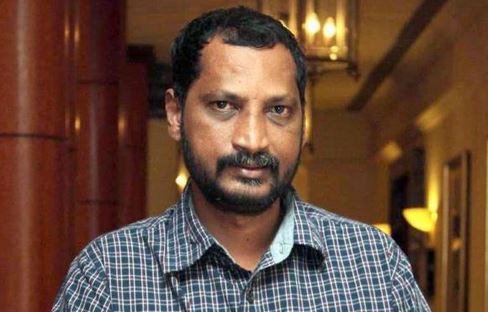 Na. Muthukumar [Image source: Twitter]
Muthukumar was under treatment for jaundice. He is survived by his wife Jeevalakshmi, 8-year-old son Adhavan and 8-month-old daughter Yogalakshmi.
Hailing from Tirur, a small village near Kanchipuram, Muthukumar came to Chennai with a dream of becoming a film director. Working under one of the ace directors, Balu Mahendra, Muthukumar's film journey started in the 90s. Having spent four years as an assistant director under Balu Mahendra, Muthukumar began scripting poems and lyrics.
He was roped in by actor-politician Seeman for his film Veera Nadai in 2000.
Coming from a family of Tamil teachers, Muthukumar honed his language skills from his father Nagarajan, who had a collection of over 5000 books. After the death of his father, Muthukumar tried to build a library and brought all the books to his Chennai office. A distant relative of former Chief Minsiter C.N. Annadurai, he studied in Pachaiappa's college in the city.
Muthukumar has worked with almost every contemporary Tamil film music composer and was one of the most sought after lyricist in the Tamil industry. His song _ Anandha Yazhai Meetugiral_ from Thanga Meengal is an all time best number. Written in classical Tami, the song captures a father's love for his girl child.
His was a deadly combination with music directors like Yuvanshankar Raja and G.V. Prakash, who delivered some of the best numbers. He has also worked with Ilayaraja, A.R. Rahman, Haris Jayaraj and Yuvan Shankar Raja. He wrote dialogues for the film Kireedam directed by A.L. Vijay in 2007.
"Can't believe this. Na Muthukumar is no more... He's written more than 200 songs in my films. A huge loss. May god give strength to his family," G.V. Prakash tweeted.
Muthukumar's songs Veyilodu Vilayadi from the National Award winning Tamil film Veyyil, Aanandha Yazhai Meetugiraai (from Thanga Meengal) and Azhage Azhage (from Saivam) fetched him the prestigious national awards. Veyilodu Vilayadi was his turning point as it earned him many accolades. Some of his other popular songs include Suttum Vizhi, Devathaiyai Kandaen and Mun Andhi and Venillave. His song Ninaithu Ninaithu from 7G Rainbow Colony is an evergreen one.
The song Azhage Azhage was so carefully penned by him that even a six-year old can sing it with ease. His another number from Avan Ivan, directed by Bala with actors Vishal and Arya in the lead captured the mood of the youth and their sentiments.
He has also authored several books like Pattampoochi Virpavan, Newton moonram Vidhi, Kiramam Nagaram Maanagaram, Kan Pesum Varthaihal, Ennai Sandhika Kanavil Varathe and Baala Kandam and Aana aavanna.
In a career lasting over a decade, Muthukumar's big time was 2012 when he penned 103 songs in just one year. The Tamil film industry, which is shocked and saddened by the demise of Muthukumar at an early age, paid tributes to him.