National Award winner film maker Madhur Bhandarkar said here on Saturday that "he hardly went to school" but never discontinued reading.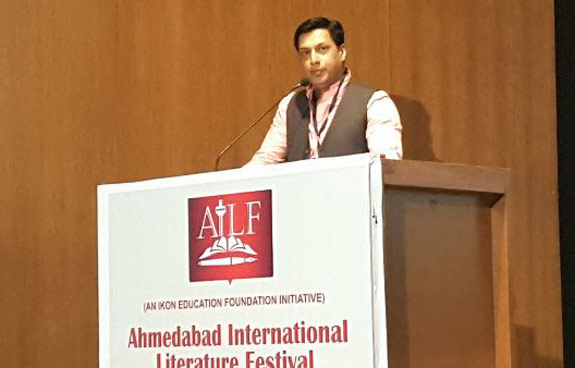 Image courtesy | Twitter/imbhandarkar
The maker of Fashion, Page 3, Corporate and many other well received movies was speaking in conversation with R.J. Dhvanit on the first day of the inaugural edition of the two-day Ahmedabad International Literature Festival. The Bollywood director was asked questions surrounding "How much does a good story matter?"
Bhandarkar said that he was not a school drop-out but had failed in class VI. "I was not interested in studies," he said and also made a point that he never thought he never went to school. "I used to read Chandamama, Amar Chitrakatha, …," he said. Bhandarkar said books like Jeffrey Archer's Shall we tell the President? left an impact on him.
He was of the opinion that films did fall in the category of literature as they inspire people and are an image of what has been going on in the society. He, however, felt that messages on Twitter did not fall in the category of literature just because the tweets entertain the followers.
Ardhya Satya starring Om Puri and Smita Patil had inspired him, he said. On his own movies, Bhandarkar said they were artistic and commercially successful. 
Albeit success did not come overnight for him and also not without failures. In a lighter vein, he said that his first movie Trishakti had all the ingredients of a commercially successful film but yet it failed. Replying to a question from the audience, Bhandarkar again said in a lighter vein that since his movie Trishakti (having three heroes as leads) failed, he focuses on Streeshakti (women power).
Chandni Bar, he said, was a game changer for him. Bhandarkar said that he had done six months of research for the film and that there was so much material with him that three to four movies could be made.
Asked whether he would write a book in future, he said he might write a book on the research that was done for Chandni Bar. "Book can be written on research that has been done for each movie," he said.
He also spoke about his upcoming movie Indu Sarkar based on the Emergency of 1975. He said that this was especially for today's generation that didn't know the kind of challenges that were faced during the Emergency.
Bhandarkar asked the youngsters to have conviction in what they do and not to get discouraged.
Earlier, the festival was inaugurated in the presence of chairman of Gujarat Sangeet Natak Academy Yogesh Ghadvi, renowned novelist Raghuveer Chaudhari and British Deputy High Commissioner in Ahmedabad Geoff Wain.
The Festival is open to public and is featuring more than 60 authors and celebrities from different fields.
It is also having parallel sessions on the art of letter writing, parent-teen workshop, how to add 50000 productive hours to your life and "improve poetry" (sic).