'Uber-like' business model is making its impact on the economy
Can history repeat itself in the economy too? Just like the Industrial Revolution of the late 18th and early 19th centuries satisfied the material needs of the masses, uberisation is now gratifying the service needs of the people. 
An economic revolution was begun when the Uber founders from San Francisco couldn't find a taxi. The idea of Uber connecting a rider with a taxi driver over a digital platform was born in Paris in 2008. Since then, fragmented customers and small enterprises have been meeting over their mobile-app platforms. A bunch of freelancers using their mobile phones have replaced middlemen. 
More people work in the service sector today than ever before. The service sector constitutes about two-thirds of jobs in the developed countries and the trend is catching up in developing world, too. As the world is moving towards a demand market interacting over digital platforms, doing business is cheaper, quicker and efficient.
Here's why uberisation is revolutionising the way people do business everywhere.
The market decides
The facilitator role of governments has gained ground in the last few decades. Governments should not run an economic enterprise was the prescription given by the capitalist countries. As uberisation made its headway, 'the market decides' is the new mantra. It has taken laissez-faire to another level.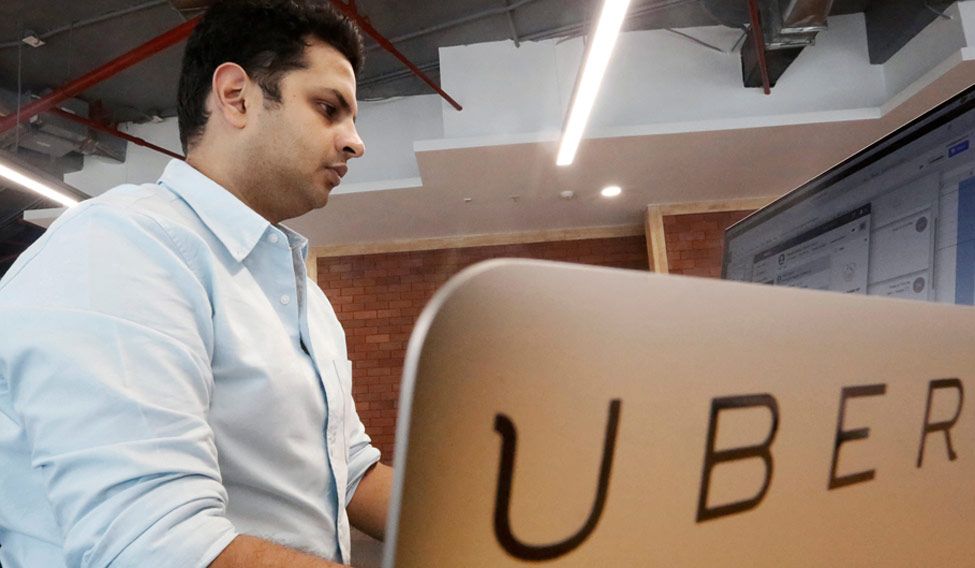 An employee works inside the office of Uber in Gurgaon, on the outskirts of New Delhi. File photo: Reuters
Tech business
Uber is a technology platform that connects a rider to a cab driver by means of a smartphone app. Taking a cue from Uber strategy, many new ventures have come up in the recent years. Startups are embracing 'Uber-like' digitisation model of connecting users and are building up networks. For most start-ups, any business is a tech business.
Self-employed entrepreneurs 
The 'Uber-like' business trend has affected employment perception in companies. Uber has a fleet of drivers working for the company, but are not entitled to get benefits available to regular employees of a company. Workers are more like self-employed entrepreneurs rather than employees. Uberising helps them find more jobs and they can go offline whenever they wish.
Uber outsources a major chunk of its work so as to focus on its key aspects. Companies adopt a decentralised method for downsizing. Though this reduces costs, it has affected the nature of employment relationship. It is also changing the way governments look at welfare and social security programmes.
Passengers aboard Gatimaan Express, India's first semi-high speed train, in New Delhi. File photo: PTI
Surge pricing
Uber charge surge pricing when there is an increase in demand. The Indian Railways was uberised in September 2016 when it introduced surge pricing for its premium trains. Fares of Rajdhani, Duronto and Shatabdi will go up by 10 per cent for every 10 per cent of reservation bookings. The Railways claims it is not surge pricing but only a flexi-fare system similar to the dynamic pricing in airlines, hotels and car rentals.
It's people's business
Value addition is no longer the job of companies but created by customers and networks. It is based on digitisation and connected users. There is opportunity for continuous assessment of quality. 
There are few fields left untouched by platform technologies.  Logistics, job market, talent market, entertainment, marketing, banking, insurance, tourism, hotel and health-care are all being uberised. And it is happening everywhere.