Purchase of gold and silver coins will stump the sales of bars. At least that is what a multi-city survey by World Gold Council and Indian PSU, MMTC (Metals and Minerals Trading Corporation of India), recently revealed.
According to the research, demand for gold coins soared post introduction of its branded version by the Centre in 2015. It was launched as a part of the government's Gold Monetisation Scheme. A survey conducted among 1,180 gold-buyer respondents from top-tier cities like Kochi, Chennai, Delhi, Mumbai and Bangalore showed that the demand has since, soared.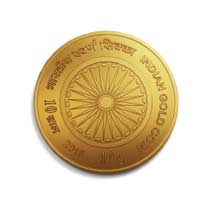 In the survey, close to 72 per cent of the respondents had said that they found the Indian gold coin extremely unique or different and 82 per cent of them stated that they were more likely to buy these coins.
All kinds of gold buyers, including gold non-investors, traditional gold investors and evolved gold investors ,reported a higher purchase intention for the gold coin. Aspects like guarantee of purity, standardisation, tamper-proof packing, BIS hallmarking and government backing are all believed to make these gold coins a hot seller this Diwali.
''The survey established a clear consumer preference for an Indian gold coin over regular unbranded ones,"said Sundaram PR, managing director (India), World Gold Council. "Consumers are most likely to buy these gold coins for Diwali or as gifts for special occasions like birthdays, marriage and child birth.''
MMTC Ltd had reported sale of 185 kg of gold coins this year. The government-backed gold coins also available to customers of four banks - Indian Overseas Bank, Federal Bank, Vijaya Bank and YES Bank.
"We have entered into some tie-ups, with India Post and few other banks, meant to strengthen the retail distribution of gold and silver coins. It will be ensured that these gold coins are made available to consumers throughout the country,"said Ved Prakash, chairman, MMTC Ltd.
The Indian gold coin, with Gandhiji engraved on one side and Ashoka Chakra on the other, is currently available in 5 gm and 10 gm coins and a 20 gm bar at the approved outlets. The coins are of 24 karat purity and .999 fineness. The Indian Gold Coin is currently one of the purest forms of gold available in the country.
These coins are minted by the India Government Mint - Security Printing and Minting Corporation of India Limited (SPMCIL) - and hallmarked by the Bureau of Indian Standards (BIS). The World Gold Council is the marketing partner for the Indian gold coin.