OPEC optimism is sinking and yet another price war looms large over the oil sector
Bulging US inventories on the top of swelling crude and shale production have pulled down oil prices to a three-month low. After rallying above $58 a barrel, Brent faced a steep decline to around $51.
Saudi Arabia seems to have lost patience with its co-members in the Organisation of Petroleum Exporting Countries (OPEC). "We will not bear the burden of free riders," warned Saudi Arabia's powerful Energy Minister Khalid al-Falih at a recent oil meeting in Houston.
Everything worked out in the manner as OPEC planned to curb output by 1.8 million barrels a day from January 1. Oil prices began to pick up even as the production cut was agreed upon. Prices jumped 30 per cent above last year's low thanks to the first OPEC production cut deal in eight years. With the signing of the six-month deal on November 30 and the level of compliance climbing up to almost 90 per cent, Brent prices surged to $50 a barrel. It started hovering above $55 after non-OPEC countries Russia and Mexico cooperated with the cartel's cut deal. In panic, buyers signed long-term contracts to insulate against higher price punches after the next OPEC meeting in Vienna on May 25. The fall happened at a time when the price was projected to touch $60 before the term of OPEC deal closes in June.

Kingdom's yoke
Oil market breathed a sigh of relief when Saudi Arabia brokered a deal to curb global glut, shouldering 'most' of the burden. Crude prices surged as the members agreed to trim production by 1.8 million bpd.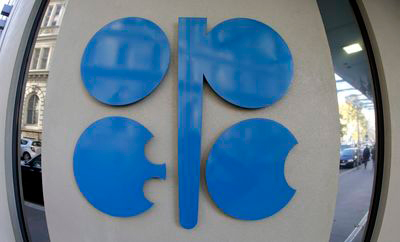 OPEC building and logo in Vienna. File photo: Reuters
A bombshell broke on March 14: An OPEC release said Saudi Arabia produced 10.011 m bpd in February, up from 9.748 m bpd in January. Market signalled a glut again and the prices began to tumble down. However, the Kingdom announced that it was sticking to the production cut deal. It clarified that its actual supply for February was only 9.9 million bpd in contrast with 9.99 m bpd in January. Saudi Arabia said that the surplus 263,000 barrels a day was meant for storage adjustments and the actual flow of oil into the market was maintained as per the OPEC deal.
Saudi Arabia believes that oil cheats in the OPEC and outside are pumping beyond their limit to garner profit of the price upswing. Mistrusting members of the cartel suspect one another of lying about their actual production level. However, the OPEC verifies output figures provided by members with secondary sources and by using granular tracking of shipments.
Saudi Arabia, de facto leader of OPEC, is likely to take a tougher line in the next round of discussion, energy analysts predict. The largest exporter of oil says it has no intention of backing out of the deal. Its position is that the burden of balancing must be shared.
A slump in oil market is a concern for Saudi Arabia when it is readying for the initial public offering of Saudi Arabian Oil Co, or Aramco. The oil major controls more than a tenth of the global oil market with reserves topping 260 billion barrels. Saudi Arabia claims Aramco is worth $2 trillion, but industry analysts have valued it $1.0 to $1.5 trillion.
Critics of the Saudi Arabia suggest that Kingdom, which owns 18 per cent of the world's proven petroleum reserves, is seeking market advantage by confusing investors, traders, buyers and producers alike. They point at the sharp upswings in the past, which hugely profited the Kingdom.
In 1998, Venezuela was at its receiving end. As prices fell in 2014, Saudi Arabia did not allow OPEC members' move to cut down production. But times have changed. Countries have built up huge oil reserves to handle a future oil crisis. With its foreign reserves fast depleting, it is doubtful how long Saudi Arabia can prolong an oil war.
Everybody knows there is a glut in the market, but it is difficult to ascertain the actual level of output by each exporter. Some OPEC members have increased production to reap benefits of higher prices even as they swore by the deal. Libya and Nigeria, which were excluded from the cut, pumped more oil. Russia, a major producer, cut only 100,000 barrels a day though it had agreed to cut 300,000. OPEC members Venezuela and Angola and non-OPEC members Azerbaijan and Kazakhstan too reportedly failed to keep up to their pledged figures.
Non-compliance by OPEC members and increased production in other countries have greatly negated the impact of the OPEC deal. OPEC seems to be in a state of confusion with the US inventory building up and more rigs being added.
US game
OPEC's high price target is actually encouraging investments in American oil rigs—rigs have gone up by 30 per cent since November 2016. After OPEC hiked the prices, US shale producers hurriedly ramped up production.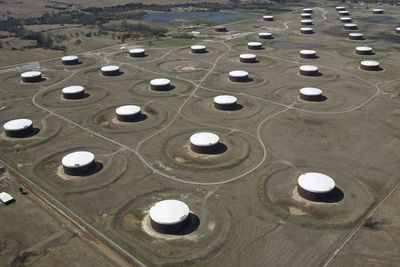 Crude oil storage tanks in Oklahoma, USA. Fiel photo: Reuters
The biggest impact on prices was caused by the increase in US crude production. Average daily production went up by 330,000 bpd this year, compared with 2016. The three-month period from October 2016 saw a double increase—740,000 barrels. This is the time for seasonal maintenance in the US rigs, so the inventories will be rising further in the coming days.
The US inventories of crude and petroleum products are 20 per cent above the average five-year figures. It has reached a new record—in the last week, 8.2 million barrels were added to the stockpile to take the total to 528.4 million barrels. The figures are 30 per cent up from the 2010-14 inventory levels.
Prices have already fallen back to the pre-OPEC deal times owing to oversupply. The downtrend seems to persists for a long time. Tumbling oil prices have added pressure on OPEC leaders which are left with no option but to abandon the deal if the US oil producers reap profits of the OPEC production cuts.


Heading for a crash?
Beyond 2020, International Energy Agency's five-year oil market projection says, global oil could be heading for a crisis. Rising demand will overtake dwindling supply because of slackening investment.
With prices falling, OPEC production cut seems to be losing its teeth. Global oil stockpile has actually gone up at a time when OPEC guessed that it would drop. In February, China built up a stockpile of 30 million barrels. A glut of natural gas has also dragged the futures down by 25 per cent in just 75 days. These are signs that a new oil price war is in the offing.
If the deal fails, Saudi Arabia might direct its anger towards other OPEC members. It may sell crude to its Asian customers at the lowest price to teach the oil cheats a lesson—Asian market accounts for 70 per cent of demand growth. If OPEC deal breaks down and members are allowed to pump as they wish, the oil market is set to collapse.