As retail inflation, measured on the basis of the consumer price index (CPI), rose to a two-year high of 6.07 per cent in July from 5.77 per cent in the previous month, the country's economic trajectory turned a little more uncertain. The figure is the fourth consecutive reading above the Reserve Bank of India's (RBI) target of 5 per cent by March 2017, and it also conspicuously breaches the upper tolerance limit of 4 per cent plus 2 percentage points that the government accepted only days ago. The reading surprised economy watchers as well, given that a Reuters poll of economists had seen the CPI-based inflation for July at 5.9 per cent.
There is some comfort to be had from the progress of the monsoon which, so far, has been normal. That the normalisation in prices of farm produce may have begun was in evidence in the figures as well, with prices of vegetables having inched down marginally from the drought-ridden period a year-ago.
Prices also fell compared to June levels. The rise in retail food prices by 8.35 per cent on a year-on-year basis and from a 7.79-per cent reading in June was led by increase in prices of eggs, cereals, pulses and sugar. According to data released by the agriculture ministry on Friday, sowing of Kharif crops has been completed on 95.4 million hectares, 7 per cent more than the area normally covered by this time of the year.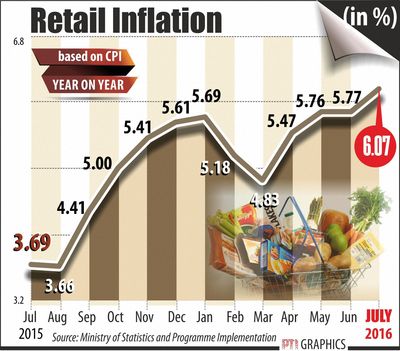 PTI graphics
In its third bi-monthly monetary policy statement on Tuesday, the RBI had warned of the risks on this front. "Going forward, the strong improvement in sowing on the back of the monsoon's steady progress, along with supply management measures, augurs well for the food inflation outlook. The prospects for inflation excluding food and fuel are more uncertain; if the current softness in crude prices proves to be transient and as the output gap continues to close, inflation excluding food and fuel may likely trend upwards and counterbalance the benefit of the expected easing of food inflation."
While pressure on the food prices front showed signs of easing through Friday's figures, the outlook for core inflation became more clouded simultaneously. Industrial output rose to a two-month high of 2.1 per cent in June, suggesting that the output gap is narrowing and supply-side pressures may emerge. A demand-driven risk also lurks in the form of the payout to central and state government employees based on the Seventh Pay Commission's recommendations.
At the post-policy press conference on Tuesday, RBI Governor Raghuram Rajan had said in response to a question, "We have done exercises on what the impact of the Seventh Pay Commission allowances would be, and it depends to some extent on what the final announcement is and the pace at which it will be rolled out by the states, etc. So, there is some mechanical increase in housing inflation when it is rolled out and we have to figure out how to adjust for that. As I said, typically mechanical increases, one-time increases...it is possible to look through some of that and say, 'okay, this is going to happen for one time', but it will come back after that, after we have been through this particular phase. What is more difficult is to gauge how this will impact generalised inflation. If people see that inflation is higher through the CPI index, though they do not see daily prices going up, how will they adjust and will it then impact inflation more generally? So these are things that the RBI will have to consider. It would be premature to say exactly what it will do."
He had a similar take on the impact of the implementation of the Goods and Services Tax, saying that it may create temporary disruptions, but policy makers will have to be careful to detect signs of it feeding into generalised inflation. But that will be a lesser concern for the moment, as the tax is unlikely to come into effect before March 2017. For now, industry will have to hope for an extremely dovish monetary policy committee to get what they never seem to have enough of: a rate cut. They are going to be on tenterhooks because on Friday, the Indian economy became a little more complicated.