After a successful debut in the low cost car category with the 0.8 L Kwid, French carmaker Renault on Monday launched a much awaited 1.0L version of the best seller.
Enthusiasts, automotive experts and common onlookers choked the launch hall at The Lalit hotel in Delhi and peered over the latest entry in the compact shatchback segment.
The low key and modest launch event ensured the brand's ethos to not go overboard on marketing spend of the budget car. Kwid's target buyers are early professionals in the 25-40 age group, who are keen on thrifty and low cost cars with a decent performing engine.
Renault said it saw a growing market in compact hatchback segment and was delivering on its earlier promise with the launch of the new version of Renault Kwid on Monday.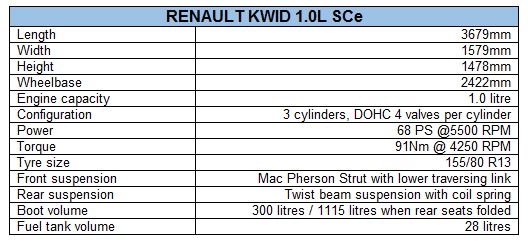 "Kwid has revolutionised the compact hatchback segment in India. Even after its great success, our buyers were looking for something more. This will add to our offering in the segment which we believe is hungry for new cars," said Sumit Sawhney, Country CEO and Managing Director, Renault India Operations.
The new car also comes with nifty features except a bigger 1.0 litre engine. The 1.0 litre SCe engine itself, the company has claimed, "sets new benchmarks in length, power to weight ratio, boot space, ground clearance and technology."
This compact hatch with its trademark SUV looks was designed by Renault's global team, but with 98 per cent localisation in manufacturing at its Chennai plant. After car crash test reports by global agencies put the earlier Kwid version low in safety standards, care has been taken to offer better safety features in the upgraded Kwid.
"Safety is of paramount importance for Renault, and all its products meet and exceed the requisite safety standards set by the Indian regulatory authorities," said Rafael Traguer, vice president, sales and marketing, Renault India.
"Apart from several active and passive safety equipment in Renault Kwid, we have taken safety to the next level. The KWID 1.0L SCe offers first-in-class pro-sense seat belt pretensioners with load limiters, an important safety feature that is usually offered in upper segment cars," said Traguer.
With the new launch and reaffirming its presence with the Kwid brand, after the successful mini SUV Duster, Renault is also focusing on bringing up better service and sales reach in the country.
"Our roadmap for India is very clear, with an immediate goal of achieving a market share of over 5 per cent," said Renault India MD Sawhney talking to THE WEEK. "We will continue with our product offensive strategy in India, as is reinforced by the Kwid 1.0L SCe launch, to substantially grow the Renault brand in India. These efforts are matched by a clear strategy to enhance the customer brand experience, with several unique and pioneering initiatives already underway to ensure that customers have an unmatched association with our brand," said Sawhney.
From the first look, the Kwid 1.0L boasted of spacious boot space (300 litres), ergonomic seating and cabin. Renault has promised low maintenance and spare cost, two years road side assistance and even personalisation options for the car.
The new car will be attractively priced from Rs 3,82,000 onwards for its base models – about Rs 22,000 more from the price of the 800 cc version of Kwid. It is also offered in two variants.