Cotton farmers caught in between as biotech giant Monsanto and Indian government clash over pricing
The world's top seed-maker, Monsanto, has taken back its pending request for introducing a new version of its genetically modified cotton seed in India. This follows a price control order issued by the Union government. Monsanto's Indian arm, Mahyco Monsanto Biotech Limited (MMBL), said it would be difficult to introduce the new seed in the present circumstances.
Unyielding actions

The Union government invoked the Essential Commodities Act to declare cotton seed as an essential commodity. A government notification issued in March 2016, without naming Monsanto, restricted the price of genetically modified (GM) cotton seeds. The order came into effect on April 1.
The government says it took the measure to help cotton farmers in distress following two bad monsoons. It acted on the recommendations of a nine-member cotton price control committee and set a maximum retail price for cottons seeds.
Monsanto sells two popular brands of transgenic cotton seeds—Bollgard I and II—to 70 lakh farmers in India.
Monsanto claims its seeds are engineered to resists insects. But its critics say that the cotton plant is susceptible to attack by pink bollworm, a major pest. The US agri-biotechnology company claims its Bollguard II provides a wider spectrum of worm control with fewer insecticides sprays.
The government has imposed a 70 per cent cut on the trait value (tech fee) or royalties. From the sixth year onwards, the royalties will diminish at a rate of 10 per cent a year.
MMBL had been charging royalties of Rs 122.96 for Bollgard I and Rs 183.46 for Bolgard II per packet. The royalties, inclusive of taxes, for Bollgard II have been now cut to Rs 49.
According to the nationwide uniform price announced by the Union government, a 450gm packet of Bt cotton seed (Bollgard II) that previously was sold for Rs1,000 will now cost only Rs 800. Likewise, Bollgard I will cost only Rs 635.
MMBL markets the seed through a network of 50 local seed companies.
Furthermore, being accused of monopolist practices, MMBL has come under the scrutiny of the Competition Commission of India (CCI). The company moved the Delhi High court against the competition watchdog. The complaints had been filed by the Agriculture Ministry and the National Seeds Association of India (NSAI).
5,000-year-old culture

Pro-BJP organisations—Swadeshi Jagaran Manch and Bharatiya Kisan Sangh—have campaigned against Monsanto. They say the multinational uses genetic engineering only as a means to control the seed market. Farmers have been the custodians of seeds, but now they depend on the multinational for survival. About 95 per cent of India's cotton cultivation is controlled by Monsanto, even though India began cultivating cotton 5,000 years ago.
Critics accuse Monsanto of putting toxic genes into plant cells, violating bio-safety, collecting unfair royalties and trapping farmers in debt. They say GM is a monster set out to destroy the farmer, worldwide.
In its election manifesto, the BJP had promised a fair deal to cotton farmers.
Benevolent action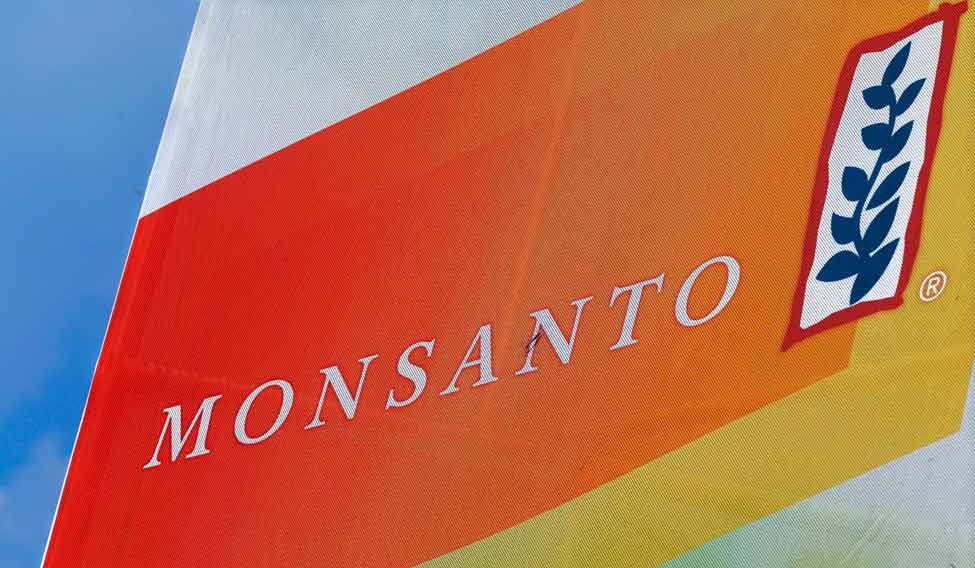 Monsanto says its research and development (R&D) has been for helping Indian farmers. In a decade, the cotton farmers in India earned an additional income of Rs1,10,000 crore.
Thanks to Bollgard technology introduced by Monsanto, the cotton yield has increased to 552 kg per hectare in 2013-14 from 302 kg in 2002-03. India Thus India became the world's top cotton producer. Formerly it was importing cotton.
Reversal of policy?

Monsanto says that the tough regulations imposed by the government went against the Modi government's own policies of promoting innovation and ease of doing business. The company says it will relook at its business in India.
Monsanto has made huge investments in bio-tech R&D. About 90 per cent of worlds cotton seed supply is regulated by it. Thanks to Monsanto's cotton seeds, India is now world's largest cultivator of GM crops after the USA, Brazil and Argentina.
Monsanto has been developing other GM crops, too. However, the Indian government has not permitted their use, saying consumer safety has to be proved before cultivating genetically modified food in the country.
People who disapprove of the price cap see a reversal India's revolution in cotton farming. They say the price cap can only hurt long-term interests of cotton farmers. It is a blow to innovation in agricultural biotechnology and violates bilateral agreements and Intellectual Property Rights.
Magnet for controversy

The string of farmer suicides in the cotton belt has put Monsanto on the defensive. But Monsanto attributes these deaths to social and economic factors beyond its control.
The company has courted controversies in many countries. Prolonged struggle is not new to Monsanto. Media and protestors had labelled the Monsanto tech that produced sterile seeds as 'terminator technology.'
To quit or not to quit

Monsanto was allowed in India in 1988 after the World Bank imposed a condition that required government to deregulate the seed sector.
Monsanto's relationship with the Indian government hit rock bottom after Sanjeev Kumar Balyan, minister of state for agriculture and food processing, said Monsanto could quit if it could not comply with the new regulations. India is developing its own GM cotton seed, ready to be launched early next year.
As a last resort, Monsanto is lobbying with the US lawmakers for protecting its business interests in India.