Archaic labour laws are seen as the biggest hurdle towards investing in 'Make in India'
After launching the Goods and Services Tax (GST), the Modi government is focusing on reforming the labor sector in order to make India a global manufacturing hub.
The government wants to simplify the labour laws by clubbing together around 40 existing laws into five labour laws. All the wage-related laws will be combined into a wage code and all the industrial relations laws will be put together in an industrial relations code.
Besides the Industrial Relations Code Bill and the Wage Code Bill, the government plans to enact Small Factories (Regulation of Employment and Conditions of Services) Bill, the Shops and Establishments (Amendments) Bill and the Employees Provident Fund and Miscellaneous Provisions (Amendment) Bill.
Business leaders had been demanding legislation that would make compliance with the labour laws less stringent. They say that labour laws are restricting full use of the workforce as they allow less flexibility in hiring. They say investors shy away from the country on this account.
The Associated Chambers of Commence and Industry (Assocham) has been vocal about rationalising land and labour laws for ease of doing business, apart from tax reforms.
But trade unions are opposing the proposed changes saying these bills were prepared without consulting them. The labour ministry says the unions will be consulted before the final proposals are presented before the cabinet.
Labour unions are of the view that since more than 90 per cent of the people work in unorganised sectors, these changes will  have little impact on the investment climate in the country. Labour laws are not the actual cause of growth constraints. Amending and diluting the labour laws will only lead to massive retrenchments of workers in the organised sector. They say the new law proposes to make it tougher to form unions and scuttle the worker's rights and job security.
States like Rajasthan, Madhya Pradesh and Gujarat have taken a lead in formulating laws favouring industrialists. As labour comes under the concurrent list of the Constitution, both the Centre and states are empowered to enact laws.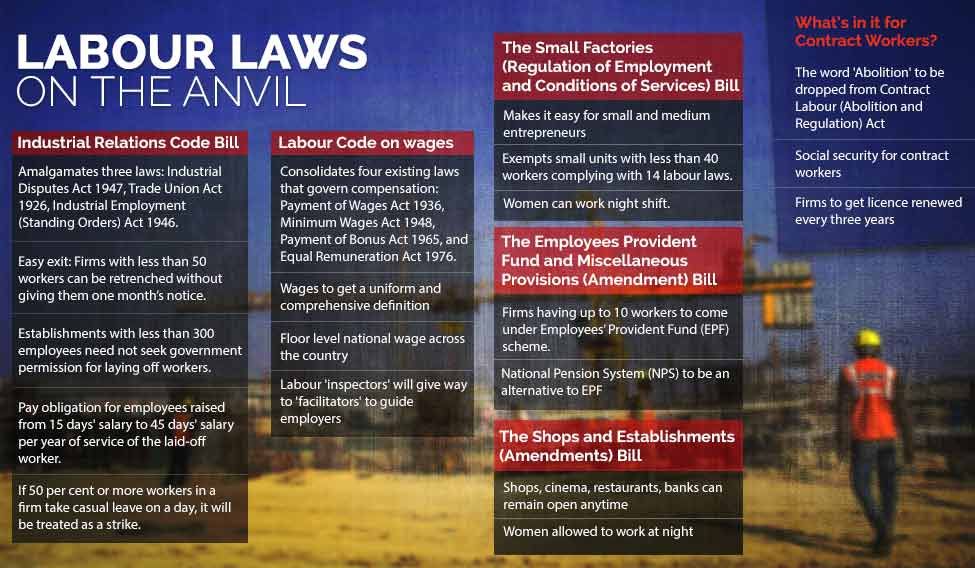 A group of ministers working under finance minister Arun Jaitely held discussions with  RSS-affiliate Bhartiya Mazdoor Sangh (BMS) over a 12-point charter of demands of the unions. But the other trade unions went on a strike on September 2, 2016 to protest against the proposed amendments.
It will not be easy for the government to the pass the bills in the Rajya Sabha where the ruling coalition is in a minority. Criticising the reforms, the Congress said government is transforming India "from a welfare state to a capitalist state". However, Modi is determined to go ahead with the bills aiming to 'Make in India' a success.