Japan's central bank targets price rise to stimulate the country's sinking economy
Has the Bank of Japan (BOJ) exhausted all its means to combat deflation? Many people think so, but not the central bank's governor, Haruhiko Kuroda. He is confident that BOJ has more conventional weapons in store to pull the economy out of stagnation due to falling prices. But financial experts believe that the central bank may be endangering itself by bearing too much to maintain price stability.
In September, the BOJ monetary policy board left its policy rate unchanged at minus 0.1 per cent. Kuroda said he could push the interest further down to the negative zone to achieve BOJ's inflation target of 2 per cent.
BOJ continues to spend huge amounts by way of purchasing government bonds and other assets. But owing to deflationary trends, the bonds are losing their value every year. If BOJ continues to invest in government bonds, the central bank would be bankrupt in three or four years, warn experts. Furthermore, BOJ's equity investment could become thrice its capital within a couple of years. A drop-off in the equity market could wipe out the central bank's capital. But Kuroda is not worried as he is convinced that the government will salvage the central bank in the face of a crisis. So his focus is on fixing the country's deflation Problem.

Stagnation problem

Falling price should motivate people to consume more. But why doesn't it actually work in Japan? Well, decreasing price level can help the market potential if the fall is within marginal limits. But when the prices are tumbling down, customers postpone buying expecting them to fall further. Then the market will become unsustainable and it collapses.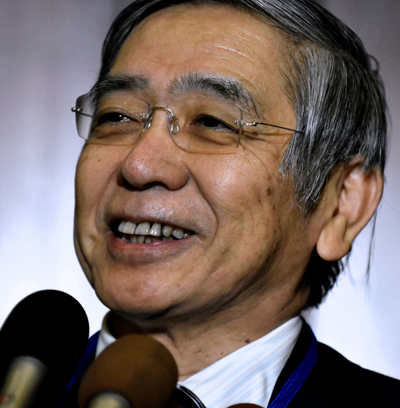 Bank of Japan Governor Haruhiko Kuroda speaks to reporters during the annual meetings of the IMF and World Bank Group in Washington, October 6, 2016. Photo: Reuters
The Japanese mindset is the root cause of this deflationary trend. Japan is failing to create a sustained inflation owing to an attitudinal barrier. The Japanese people are largely interested in saving rather than spending. Even when the benchmark interest rate is below zero, they would rather repay their debts than borrow and invest money.
In a sinking market, companies cannot be wooed by low interest rates alone. Cheap money does not attract companies to invest, but they rather pay off their debts at the earliest as revenue will be on the decline. Liabilities and debts will not come down at a time when prices and income fall. Government's tax revenue too suffers as income slips. And the economy succumbs to a slow death. Thus a prolonged deflation can be devastating for the economy. The International Monetary Fund has warned Japan that unless it pushes up its economy, the stagnation will persist forever.

Deflationary causes

After a long period of phenomenal growth, stagnation has gripped Japan for more than two decades. Since 2009, it has been growing just between 0 and 0.5 per cent in terms of Gross Domestic Product. Its population is shrinking and there are more elderly people than the young. Japanese workforce is dropping at 0.17 per cent a year and the country is reluctant to replace them with immigrants. Owing to all these negative tendencies, a strong deflationary mood has gripped the land of the rising sun.

How BOJ fights

The apex bank introduced minus interest rate for the first time ever at its monetary policy assessment on January 29, 2016. But the economic stimulus missed the target because of external factors like global recession and fall in crude price. The stimulus pushed down the Japanese government bond yields and the stock market declined. But the Japanese yen appreciated further. Yen, being a safe currency has become dearer. A stronger yen hit the Japanese economy hard which conventionally depended on exports—they made less in exchange for their exports. Fighting this vicious cycle makes matters worse for the central bank.
So what's BOJ doing to spur economic growth? The bank is encouraging companies and people to take more of the cheaper loans and spend the money sooner. But why do people wait when money is available at ridiculously cheap rates? The Japanese people are generally not fond of immediate gratification. People can put off purchasing if they think they can get the same product or a service at a lower rate in future. Companies do not invest when they don't find customers to buy. So BOJ is trying to push up the inflation by pumping more cash into the economy. Rising prices can make people rush to buy as it may become expensive later. Besides lowering the key interest rate, BOJ is buying $787 billion worth of bonds and other assets to circulate more money. The idea is that more money in the market can spark inflation.