Tax dodgers rush to clean up their books after intensified action by IT officials
After having set a deadline for declaration of undisclosed income and assets, the Income Tax department has started knocking at the doors of tax evaders.
Armed with credible information on unaccounted income and assets across the country, the officials have intensified action against possible tax evaders. The deadline for self-declaration is just a week away. 
Under the ongoing tax amnesty scheme—Income Declaration Scheme (IDS) 2016 that runs from June 1 to September 30—a declarant can pay a total tax of 45 per cent, including 7.5 per cent surcharge and 7.5 per cent penalty, to legalise black money kept within India. However, only white money can be used to pay the tax. Thereafter, no questions will be asked about the source of the declared amount. 
IT sleuths have been conducting searches and seizures for the past one month based on information gathered in the current financial year. More raids and surveys are expected in the coming week and the government has given taxmen the targets for each city.
In Mumbai, 50 small businessmen running eateries were raided for the first time. Similar raids of small establishments are going on in other cities. 
The IT department is also pursuing  taxpayers who are under-reporting their income or exaggerating their deductions in  their tax return forms. About seven lakh individuals and entities have been issued notices.
In the initial months, the scheme received only lukewarm response. However, as reports of tax raids spread, more people have started making use of the scheme.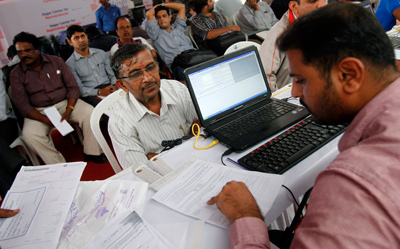 Taxpayers wait to file their income tax returns at special counters set up by the Income Tax department in Bangalore. File photo: AP
At present the percentage of income tax payees in India is a meagre one per cent. Less than three per cent of Indians file income tax return. The department is now widening the tax net. 
A massive campaign was launched to persuade tax evaders to make use of this last chance to come clean before government initiates stringent action under the new black money law. The IT department had warned of a massive crackdown on black money after September 30. The Prime Minister Narendra Modi too had urged the people to come clean in his radio talk 'Maan ki Baat' in June 2016.
The Central Board of Direct Taxes (CBDT), the policy-making body for the IT department, has assured that the declarations will remain confidential and will not be shared with any law enforcement agencies.