India wants to build 9 world class island tourist places in line with Singapore and Hawaii
The tourism sector in India will undergo a shift in its focus with the Union government intending to build a few islands into global tourism spots.
The Niti Aayog is working on the details of the plan to turn nine virgin islands into fabulous tourist destinations similar to those in Singapore, Hawaii in the USA and Pattaya in Thailand.  The planning body is in consultation with the ministries of tourism, home, finance and tribal affairs on island tourism.
This follows Prime Minister Narendra Modi's call to make use of India's huge island wealth—there are about 1,380 along the Indian coastline. Earlier, the Prime Minister's Office had proposed to build 26 islands into tourist spots. 
The places identified by Niti Aayog are Smith Island, Ross Island, Avis Island and Long Island in Andaman & Nicobar, and Bangaram, Thinnakara, Suheli, Cheriyam and Minicoy in Lakshadweep.
The government wants to construct world class resorts and hotels on these islands to attract mostly foreign tourists. These can be developed as prominent surfing destinations. Surfing is a major financial driver in water tourism. 
The Niti Aayog is looking at holistic and sustainable economic development of these islands with private investments. The government is expected to ease environmental norms.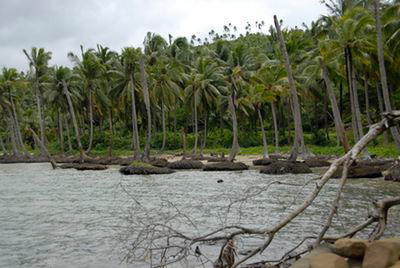 Andaman and Nicobar Islands. Photo: Shaji N Karun for Manorama
Now, almost 90 per cent of the Andamans is classified as reserved forest. So the government wants to encourage use of renewable resources like solar energy on the environmentally sensitive island. Only the south, north and middle areas of Andaman Islands are inhabited, leaving the eastern and western parts uninhabited. 
At present, only four lakh tourists—mostly domestic tourists—visit Andaman Islands in a year. Foreign tourists are put off by lack of infrastructure and restrictions imposed on travel to certain areas of the island. Most foreign visitors are budget travellers.
Even fewer tourists visit Lakshadweep a year—between 10,000 and 15,000.
The emphasis on island tourism comes at a time when the country's top tourist destination, the Taj Mahal, is losing its attraction. The number of foreigners visiting the Taj has been falling steadily for the last few years. There were only 6.48 lakh foreign visitors to the Taj in 2014, a 7 per cent fall from  6.95 lakh in 2013. About 7.43 lakh foreigners had visited the 17th century monument in the previous year.