Riding the momentum built by the passing of the GST Bill in Rajya Sabha on August 3, the Finance Ministry is sparing no effort to roll out the new tax regime on April 1, 2017. The Centre may convert the existing Empowered Committee of state finance ministers into the GST Council to speed up the processes.
GST regime cannot be implemented without fixing tax rates. These and other issues like exemptions, threshold, compounding and control need to be sorted out on a consensus basis by the GST Council with Union finance ministry holding one-third power and states possessing two-thirds power collectivity.
Finance experts have expressed confidence about the long term benefits of GST, but concerns have been raised about the short tern inflation hitting the economy. The GST council has to keep the tax rate as low as possible to maintain inflation below the optimum level. A high tax rate will damage the very purpose of GST. Since the resource is shared both by the Centre and the state, the tax rate should be such that the income of both Centre and state should not suffer. The concern of the consumer as well as those of the Central and states should be addressed by the GST Council.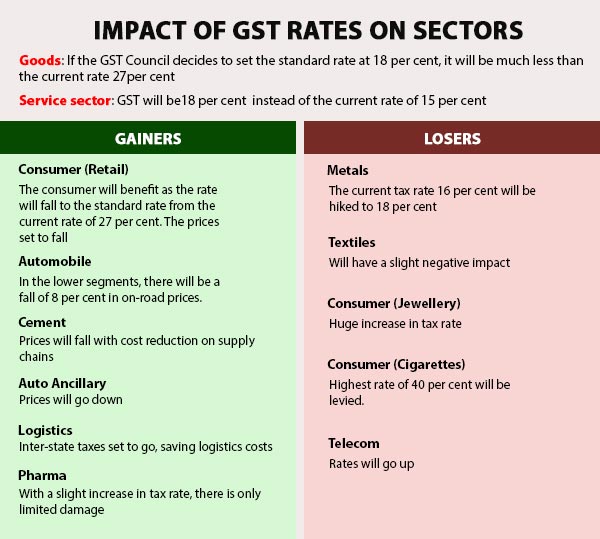 Chief economic advisor Arvind Subramanian had suggested a three-tier GST rates — 12 per cent, 40 per cent and standard rate18 per cent. The Subramanian-panel recommended a revenue neutral rate of 15-15.5 per cent. Any rate higher than this would be inflationary. But certain states are concerned that fixing the standard rate below 20 per cent would have a negative impact on their economy.
Former finance minister Chidambaram wanted the GST standard rate to be fixed at 18 per cent. Welcoming the standard rate recommended by the chief economic advisor, Chidambaram said the broad consensus among the Opposition was that the GST rates should be non-inflationary.
Finance Minister Arun Jaitley said that the rates should be less taxing than the combined burden of the Central and State taxes that comes to about 27 per cent now.
With GST subsuming the service tax, the tax on insurance premiums, hotel bills, telephone bills will be hiked from the current rate of 15 per cent. As 60 per cent of the GDP is generated from the service sector, the increase will be a substantial burden on the common man.
Malaysia implemented GST in 2015 with a tax rate of 6 per cent. In spite of the Malaysian government enforcing the Price Control and Anti-Profiteering Act 2011 to ensure that businesses did not hike prices of goods indiscriminately, consumers took to the street protesting against price rise due to GST.
Long term impact When VAT was introduced in India, prices went up in the initial months but the inflation was not sustained in the long term. Government anticipates a repeat of history when GST is implemented.