Tackling inequality is important, especially since the global economy is still in bad shape
One out of ten people in the world lives in extreme poverty, surviving on bare necessities, says a World Bank study on poverty and shared prosperity.
The good news is that extreme poverty has been subsiding everywhere, despite the world economy not growing fast enough. In two decades, from 1990 to 2013, about 110 crore people came out of utter poverty. But in the same period, the world population grew by 190 crore.
In India, 21.8 crore people escaped from the crutches of utter poverty from 2004 to 2013. "It is remarkable that countries have continued to reduce poverty and boost shared prosperity at a time when the world economy is underperforming," said the World Bank Group president Jim Yong Kim.
About 76.7 crore people are still living in extreme poverty, 41 per cent of them in sub-Saharan Africa, says the study. South Asia has 15.1 per cent of them; Latin America and the Caribbean, 5.4 per cent, and East Asia and the Pacific, 3.5 per cent.
The World Bank estimate of extreme poverty is based on purchasing power parity of $1.9 or Rs 126 (international poverty line) a day at 2011 prices.

Falling inequality
The study says economic growth alone cannot put an end to poverty. Faster growth coupled with more equal distribution of the benefits of growth can help more people come out of poverty. "Unless we can resume faster global growth and reduce inequality, we risk missing our World Bank target of ending extreme poverty by 2030," said Kim.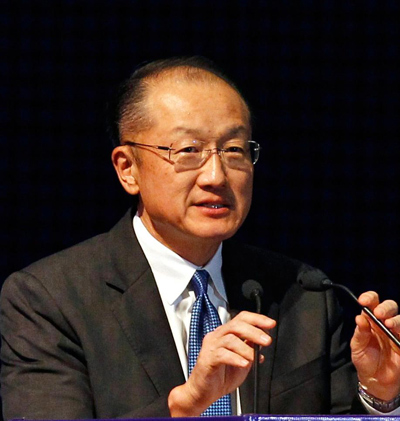 World Bank Group president Jim Yong Kim
The study says inequality is falling in many places. The report has spotted 40 countries where it has actually come down. "Inequality between all people in the world has declined consistently since 1990. However, it is still far too high and there is concentration of wealth at the top of the income distribution," says the study.
The World Bank researchers have emphasised six 'high-impact strategies' after studying five countries—Brazil, Cambodia, Mali, Peru and Tanzania—that have reduced inequality in the recent years. They are: better nutrition and child care in the first 1,000 days of life, affordable public health care, access to quality school education, increase in earnings of poor families, roads and electricity in villages and a tax system that transfers resources to the poor.
"Some of these measures can rapidly affect income inequality. Others deliver benefit more gradually. None is a miracle cure," said Kim.
Tackling inequality achieves more significance at a time when a sluggish economy seems to nullify the positive results of the last 25 years. The World Bank said if countries could act strategically to cut inequality, they would lift more people out of poverty faster.

India not yet shining
Despite India being one of the fastest growing economy, the income of the poorest grows at a slower pace than the average, according to the World Bank. Though 58 per cent of Indians make $3.10 a day 21.25 per cent live in utter poverty, earning below the benchmark $1.9.
In terms of equality of income, Pakistan is better placed in the category of countries where the income of their poorest class is growing faster than the average.

Children's suffering
Children are the worst victims of poverty. A joint study by the World Bank and UNICEF, which was released soon after the study on poverty and shared prosperity, said that globally, nearly 38.5 crore children were living in extreme poverty. "Children are more than twice likely as adults to live in extreme poverty," according to this study.