Bengaluru city, which turns 480 in 2017, is truly a cosmopolitan in nature with the local Kannadigas accounting for less than 48 per cent of its total population. The Kempegowda International airport, the third busiest airport by passenger traffic in the country, alone received 18 million travels in 2015.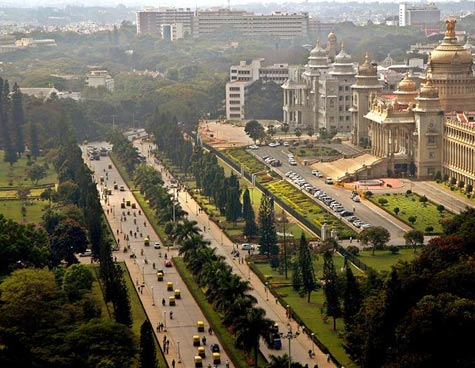 Reuters
However, the Karnataka capital has failed to fully cash in on its appeal and footfalls despite being one of the fastest growing cities in the world (according to Forbes).
Tourism minister Priyank Kharge, who was newly inducted into the Siddaramaiah cabinet, has big plans for Bengaluru to develop a global city with its right mix of heritage and modernity.
The minister has constituted a Bengaluru Tourism Advisory Committee (BTAC) to brand Bengaluru. Experts in the field of heritage, urban, landscape, hospitality, architecture and conservation will come up with a blueprint for 'Brand Bengaluru' and to make it a global city in the true sense.
"Bengaluru, also known as Pensioner's Paradise, Lake City, Garden City, Education City, Sports City, Science City, Silicon Valley of India & Pub City, has huge tourism potential. The Kempegowda International Airport Bengaluru (KIAL) received 18 million travellers in 2015. If we can convert even 25 per cent of these travellers into tourists, and engage them in the city for a day, the city can generate a revenue of $450 million per year. It is an all-season destination with historical monuments and skyscrapers and malls," said Kharge, who chairs the committee.
The inclusion of high-end malls to rural markets, from IT/BT to handicraft and accommodation choices from budget hotels to 5-star and 7-star hotels, multi-cuisine restaurants, breweries and pubs, nightlife can be a gamechanger, feels the minister.
The scope of the committee is to provide quick action plans for developing Bengaluru region, attract PPP projects, and engage in inter-city cooperation concepts.
The minister noted that Karnataka was in the third position in terms of the inflow of domestic tourists and ninth with respect to foreign tourists. "We want to be in top two positions," said Kharge, adding that the 320-km-long coastal line would be developed with an investment of Rs 100 crore.