The Trump Organization will step into an uncertain future as Donald becomes the president of the United States
Donald Trump vouches that his business empire is worth more than $10 billion, but most financial media analysts estimate his real net value to be around $4 billion. As a requirement of his presidential candidature, Trump filed a 92-page financial disclosure statement before the Federal Election Commission on July 15, 2015. Trump campaign released a statement on the same day, saying his personal asset is in excess of $10 billion. However, to substantiate his asset claims, Trump has not disclosed his income tax returns. As president of the United States, he is not obliged to disclose his wealth.
Trump's income tax returns are confidential and there are only guesstimates about his actual worth. On Forbes 400 list of 2016, Donald Trump slipped to 156 from rank 121 in 2015. Forbes estimates his personal wealth as of November 11 to be $3.7 billion.
Donald Trump is the chairman and president of The Trump Organization dealing with more than 500 concerns in many countries, including India. In the past, many wealthy people have become US presidents, but none had so much wealth and high-profile business interests like Donald Trump. During the campaigns, Trump had said that he would hand over operations of his businesses to his children. Federal laws do not prevent American presidents from involving in business activities while in office.
However, in the recent times, most American presidents have entrusted their businesses with blind trusts—it requires that the owner has no knowledge about the way the business is managed. This saved them from undesirable controversies. It is not yet clear how business tycoon Trump would handle his empire.

Trump's empire

The Trump Organization has business interests in real estate development, real estate holdings, property management, investing, media, sales and marketing. The company develops, owns and operates residential real estates, resorts, hotels, residential towers and golf courses around the world. It has invested in hectares of prime land in many cities. Trump owns several hundreds thousand square feet in Manhattan buildings. His company earns millions by licensing deals for using Trump-brand in different countries, including India.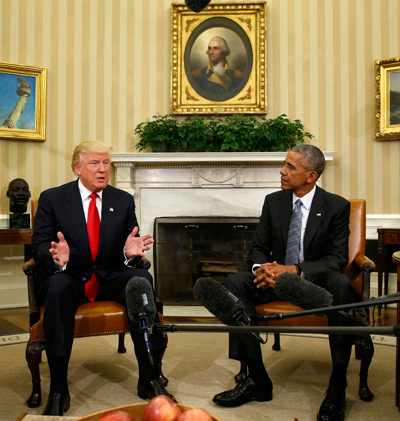 U.S. President Barack Obama meets with President-elect Donald Trump to discuss transition plans in the White House Oval Office in Washington, U.S., November 10, 2016. Pic: Reuters
Trump companies manage a wide range of businesses like construction, hospitality, entertainment, media, book and magazine publishing, television production, retail, business education, fashion apparel, beauty pageants, model management, jewellery and accessories. He is into services like online travel, airlines, helicopter air services, financial services and board game development. His products include home furnishings, lighting, home fragrance, bath textiles and accessories, bedding, food and beverages, steaks, chocolate bars and bottled spring water. He owns golf courses in the United Arab Emirates, Britain and Ireland. Trump-brand hotels sell opulent lifestyle in Turkey, the Philippines, South Korea and Uruguay. He has a hotel—built on land leased by the US government—just close to the White House, his official residence as US president. More are coming up in other US cites.
Luxury real estate projects in India have been marketed with Trump's brand value. His first Indian joint venture was in 2011 with Rohan Lifescapes for a luxury project in south Mumbai. In 2013, The Trump Organization, in partnership with the Panchshil Realty, built a 22-storey residential twin tower in Pune. Another successful Trump initiative is the 75-storey Lodha Trump Towers in south central Mumbai.
Trump's grandmother Elizabeth Christ Trump founded Elizabeth Trump & Son in 1923 with her 18-year-old son Fred Trump. Young Donald officially joined joined the company in 1968 while he was studying at the University of Pennsylvania. He took control as the sole principal owner in 1971 and one of the first decisions was to re-brand it 'The Trump Organization.'
Donald Trump's official presidential nomination states his interest in more than 500 firms in many countries. As president, when he deals with such countries, the Trump-brand entities may provoke conflicts of interests in bilateral trade agreements. His businesses may become a cause of controversy in his tenure as they could be seen as benefiting from special favours. A billionaire president having worldwide business interests will be under constant scrutiny. The media will be monitoring deals with each country to see if there are decisions that advantage Trump-brand.