A caretaker government with limited powers has lifted Spain out of its worst financial crisis
A political deadlock in Madrid has turned out to be a blessing in disguise for Spain—its ailing economy has been rejuvenated.
Following split verdicts in two elections held on December 20 and June 26, a caretaker government led by Prime Minister Mariano Rajoy has been administering the country for nearly 10 months. His conservative party has time till the end of this month to garner support for setting up a minority government. As of now, Rajoy has support of 171 members in the 350-member parliament, 137 of whom are members of his own party. If the attempt to form a formal government fails, Spain has no option but to go to polls tentatively scheduled for December 25, 2016. But people are not much thrilled about having a third election in succession as an unwanted Christmas gift.
In Europe, Belgium holds the record of not forming a government for 541 days, following 2010 elections.
However, the chaotic politics has had little influence on the country's path to resurgence.
Resurgent Spain
Spain's economy was a shambles, just close to Greece's. Tax revenue was dipping owing to recession and benefit payouts were on the rise. The budget deficit is well above the 3 per cent limit set by the European Union. The deficit this year is 4.9 per cent of the Gross Domestic Product and 3.6 per cent for next year.
The economy was in deep waters when non-performing assets of banks multiplied. Bad property assets of banks had almost choked the economy and it badly needed assistance from the EU. As part of reforming the sector, a number of bank branches have been closed down, leading to the merger of smaller or weaker of branches. With 11 per cent staff dropped and 15 per cent cut in the number of branches, the banking system has been revived.
The caretaker government of Rajoy braved increasing protests from ant-reformers. Sweeping changes in banking and labour market revitalised the sinking economy. The government allowed companies to have more flexibility in fixing wages of their employees.
Consumer confidence in the market was shored up by maintaining the price rise at a low level. Declining fuel price and inexpensive flow of euro from financially stable Europe pulled Spain back to a resurgent economy. Its markets, coffee shops and restaurants started running brimful.
It has been exciting times for Spanish tourism this year. As holidaymakers deserted terror-inflected spots of France, Turkey and Egypt, they rushed to Spain. Spain's service industry too has been booming. The unemployment rate fell below 20 per cent, down from its peak of above 26 per cent in 2013.
Spain is one fastest growing economies in Europe and Spaniards are on a spending spree. This year, the growth is expected to be around 3 per cent and in 2015, it was 3.5 per cent. Compare this figure with the EU's growth rate of 1.5 per cent in 2015 and 1.6 per cent in 2016.
However, experts believe that the current growth rate of Spain is deceptive without the backing of proper reforms and legislation. Spain needs a stable government to enact structural reforms and approve budget for the coming year. The current budget of 2016 was passed before the crisis erupted. So 2017 is going to create a difficult situation for the country, they warn.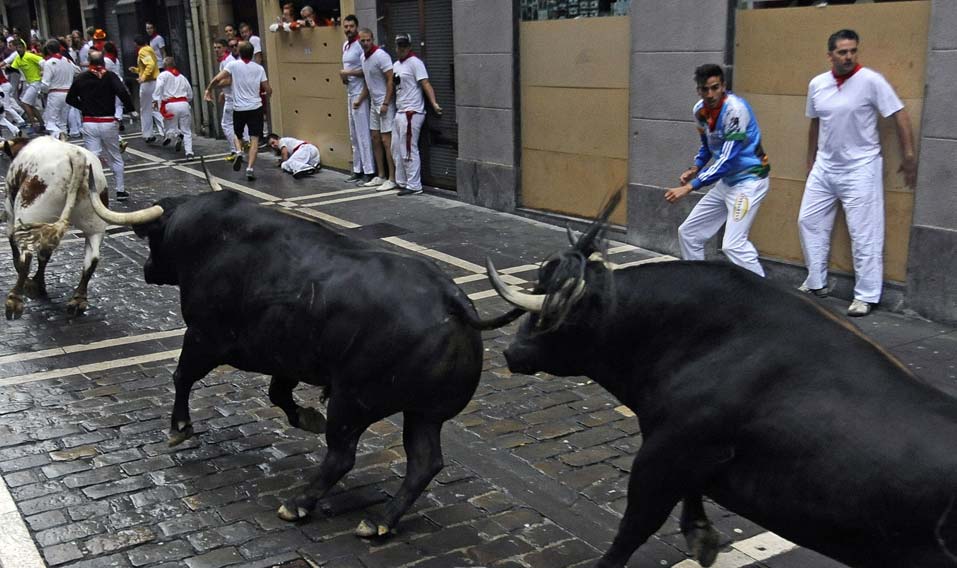 People run away from Victoriano del Rio Cortes' bulls in a street during the third bull-run of the San Fermin Festival in Pamplona, northern Spain. The festival attracts thousands of tourists to watch the bull runs. File photo: AFP