Saudi Arabia's sweeping belt-tightening measures have begun to squeeze Indian expatriates
Two-year-long slump in the oil market has pressed Saudi Arabia to give up its affluent lifestyle. In the past, the Saudi rulers were reluctant to carry out austerity measures fearing a backlash in the only country that bears the name of a family—the kingdom got its name from the ruling family of Al Saud.
In 2016, Saudi's capital spending is expected to be $20.6 billion, down from $70.2 billion in 2015—a drastic cut of 71 per cent. Its capital expenditure in 2014 was $98.6 billion. Stubbornly low oil prices have persuaded the world's top oil exporter to do away with projects costing $20 billion.
The bite is from top to bottom: Ministers will take home one-fifth less of the salary, legislative body Shura's members will get 15 per cent less pay, perks and bonuses of employees have been scaled down and junior staff in government will not get a raise. Two-thirds of working Saudi citizens are employed by the government.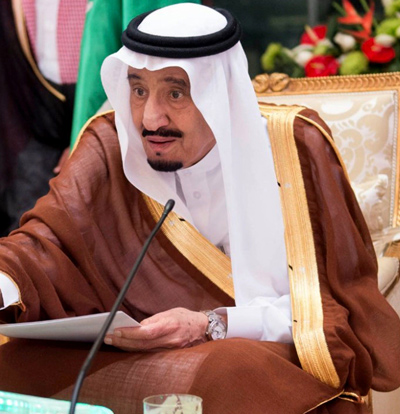 King Salman bin Abdulaziz Al Saud launching five projects within the Third Saudi expansion for the Grand Mosque in Makkah. File photo: AFP
Of late, Saudi's theocratic government has abandoned Islamic Hijri for widely used Gregorian calendar to reckon salary for its staff. Islamic calendar based on the moon has fewer days in a month than the Gregorian calendar.
Vision 2030 plan launched in April by the King's son and Deputy Crown Prince Mohammed bin Salman intends to enforce budget discipline, push private sector employment, and reduce government payroll.
The central bank's foreign currency reserves have been depleted by more than $175 billion from $737 billion in August 2014. The International Monetary Fund warned in October 2015 that Saudi Arabia would run out of money within five years if this trend continued.
The budget deficit in 2015 was $97.9 billion, 15 per cent of GDP. The budget deficit this year is 13 per cent and in 2017 deficit is estimated to be below 10 per cent.
Financial disciplinary actions have begun to pinch. State-funded benefits from oil had enabled an easy lifestyle for Saudi citizens. With cut in subsidies for water, electricity and petroleum products, the cost of living is increasing. With government not clearing contractors' bills on time, private-sector too has been affected. Consumer spending too has slowed down.
Oil riches of Saudi royal family have been funding a multitude of organisations involved in religious, educational, media and charity activities in many countries, including India. All these have been affected by the slump in crude prices.
Depleting fortunes
Profits of oil exporting countries soared with oil prices remaining above $100 a barrel from 2011 till June 2014. The price averaged around $50 in 2015, and later came down to $29. At present the price hovering around $50 after Saudi-led Oil Producing and Exporting Countries expressed their willingness to cut down production.
The prices dropped because of a huge glut of oil in the market. The demand had declined owing to many global factors—economic recession, investment in alternate sources of energy and high fuel-efficient engines. Furthermore, Saudi Arabia wanted to keep out the American shale producers by underselling. Fall in oil prices and a costly war in Yemen changed everything. The kingdom is considering to sell off even shares of its prestigious oil company Saudi Aramco.
In the past, after every fall the crude prices had recovered. Anticipating a slow recovery, the Saudi government has started diversifying its economies away from petroleum products.
Impact on India
International crude price has a huge impact on the Indian economy as 80 per cent of its oil is imported. Global slump in oil prices benefited Indian economy to maintain inflation at a low level. Saudi Arabia has been India's largest oil supplier till Iraq replaced it in April 2016.
India's crude import bill was $168 billion in 2013-14. Because of the fall in prices, in 2014-15 fiscal, India imported 189.4 million tonnes of crude oil at $112.7 billion. Though crude oil consumption went up by 10.9 per cent in 2015-16, India's import bill nearly halved to $64 billion.
Low priced oil helps reduce the current account deficit and is a reason for lower inflation. However, the decline in crude prices has had a bad impact on the fortunes of Indian expatriates. It has particularly affected Kerala—about 5.22 lakh Keralites are employed in Saudi Arabia, mostly in the private sector.
Remittances of Keralites in the Gulf countries amount to Rs 1 lakh crore which is one-fourth of the state's Gross Domestic Product. Though there has not been a huge rise in job losses, Indian workers in Saudi have suffered a cut in salaries. But there are deeper concerns among them about their future as Saudi government is reserving increasing number of private sector jobs for its citizens.