Virtual community members are enthusiastic about the newborn digital currency Zcash as it offers confidentiality in transactions

Why decentralised digital money is here to stay
A new digital currency offering confidential transaction facility has been launched. Zcash, an upgraded version of the original cryptocurrency Bitcoin, masks the sender, recipient and the transacted amount.
Built on Bitcoin's code, Zcash is also an open source design—it is suitable for developers to clone each other and to add layering on features for improvements.

Among others, lack of governance has been a problem with Bitcoin. Zcash developers have formed a company—Zcash Electric Coin Company—for administering and nurturing their product. However, the decentralised nature of the incumbent has been left untouched. Its CEO and founder, Zooko Wilcox, said in interview with Bitcoin Magazine that people would use cryptocurrencies to cooperate and organise with one another in safety and privacy. "This will give them freedom from corrupt regimes, banks and unstable national currencies," he said.
Cryptocurrencies are not printed, but volunteers mine digital coins in the form of complex mathematical formulae using computer power. The long diligent software activity is sometimes troublesome and most often, it generates very little value. As a reward, miners own those bitcoins, the fruit of their labour. However, mining using Zcash has been made swifter, though not yet a smooth ride. Digital currency is still in its nascent stage and developers identify that it is "not yet shown to be safe and stable," on their blog.
Many central bankers look upon cryptocurrencies with suspicion. Nevertheless, in late 2003, then Fed Reserve chairman Ben Bernanke, in a letter to the US senators, said that the virtual currencies "may hold long-term promise, particularly if the innovations promise a faster, more secure and more efficient payment system." The Congressional hearing turned out to be an image booster for the virtual currency. The value of Bitcoin shot up after this statement.
The virtual currency is not pegged to any fiat currency, and its value is highly volatile to feelings surrounding it. For instance, in 2001 an underground gang called Silk Road used Bitcoin for illicit trade worth 9.5 million BTC equivalent to $1.2 billion. They remained secretive till the US Federal Bureau of Investigation tracked them down in October 2003. The result: The value of bitcoin fell to $109 from $139 in just three hours, and then bottomed out at $99. Digital money can be stolen and a transaction once done is irrevocable.
Similar to Bitcoin, the aggregate value of Zcash that can be mined is fixed at 21 million ZEC. The founders of Zcash, investors, advisers and employees have been granted 10 per cent of the total 21 million coins. They will own 2.1 million ZEC out of 10.1 million to be mined within the first four years. After that the primary stage, the remaining 10.1 million ZEC will exclusively go to miners.
Miners have become active right from the day of its launch on October 28. To encourage more people joining the mining task, the Zcash company has sponsored a prize fund worth $30,000. Currently a slow start mining phase—to generate 20,000 blocks—is on the run. It may take a little more than a month's time to adjust the system. Other means to secure Zcash are to convert fiat currencies or transfer Zcash from a sender over the internet for storing in your digital wallet.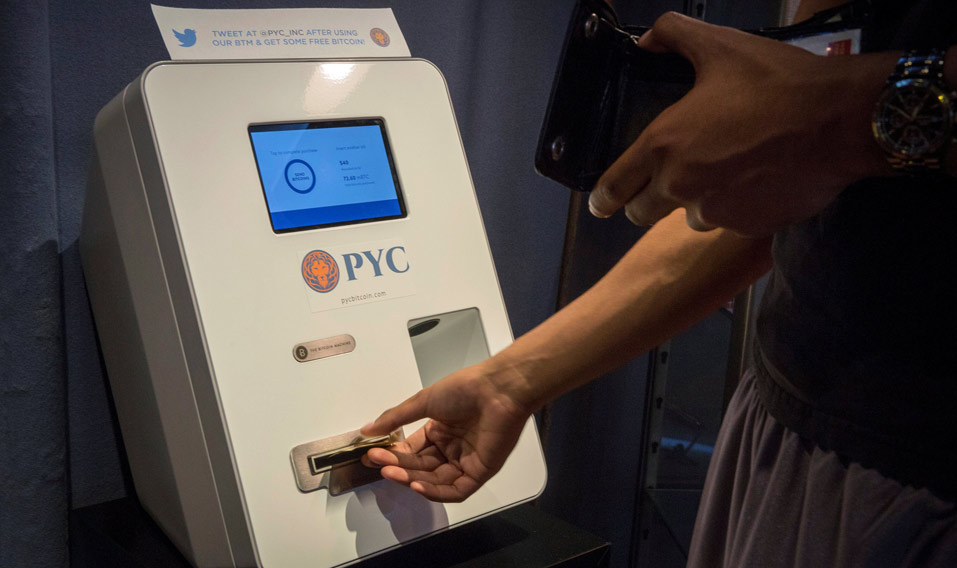 A customer feeds cash currency in to a Bitcoin ATM located in New York. Photo: Reuters
One of the grumbles about Bitcoin is its slow liquidity. Transactions take place much quicker in the Zcash system.
Blockchain, the digital ledger of transactions in Bitcoin, is an open book. An analysis of this data can easily reveal the business strategies of its clients. Zcash blockchain uses a code based on 'zero-knowledge proof' to hide the transactions. The name Zerocash or Zcash originated from this concept. Private and secure transaction is the advancement that comes with Zcash.
Regulators have taken digital coins seriously. The intelligence unit of the US treasury department has issued guidelines to prevent money laundering and terrorism funding activities by misusing anonymity of virtual currencies.
The value of Zcash is still unstable as market is yet to know its real worth because of limited availability and high demand—only around 3,000 ZEC have been mined. As of November 2, 1 ZEC is trading at $1,338 or 1.91 BTC.