Buyers are holding off their gold purchases as they expect prices to fall further
Gold has seen a sluggish market since March this year. Gold imports too have fallen consistently this year. Current trends indicate that yellow metal import in 2016 will be about 400 tonnes, down from last year's 900 tonnes.
Typically, the demand for gold picks up during the last quarter of the year as the country warms up for wedding and festival seasons. Nearly half of the Indian gold demand is for jewellery making. As the demand has not been encouraging, jewellers are managing with low inventory. Gold has been selling in the country at a high discount for long periods this year owing to weaker demand.

Fall in demand
The price of gold has been highly volatile this year on account of many global factors. Britain's vote to exit the European Union, Chinese equity market sell-off, and monetary policies of central banks have all made the gold market unstable. Indian gold customers are generally vary of fluctuations and want the market to stabilise before they purchase. The price of gold has dropped by 5 per cent in the last one month. The buyers have been holding off their purchases as they hope the prices may fall further.
However, traders do not expect the gold prices to fall drastically. They hope gold market to pick up between Navratri and Dhanteras, when it is auspicious to buy gold. Festivals, Dussehra and Diwali, are around and wedding season will follow Navratri. Though, there is no sudden spurt seen in demand, purchases have improved slowly—it has picked up 25 per cent last month. With rising demand and fall in prices, traders have already withdrawn discounts they were offering to lure customers.
Having booked their profit already, Indian investors anticipate a fall in prices before they take a plunge. However, the low income customers make their purchases without worrying much about prices, though in small quantities.
There are other factors that may have added to this slump. The Income Tax Department has made Permanent Account Number compulsory for all gold purchases above Rs 2 lakh. One per cent excise duty and looming fear of gold purchase being brought under the GST regime may have made some customers wary.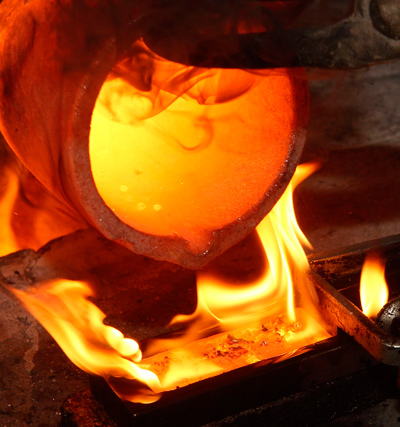 Liquid gold is poured into a mould in preparation to produce gold leaf at Erich Dungl's gold leaf workshop in Schwechat, Austria. File photo: Reuters
The recent crackdown on black money also could have an adverse impact on purchase of the precious metal. During the festival seasons, it is customary for many wealthy people to splurge their unaccounted money on gold and jewellery. The chances of black money pushing up gold demand have been cut back by the recent Income Declaration Scheme—64,275 people have declared a total of Rs 65,250 crore of black money.
Owing to the penetration of banking facilities some of the rural customers could be preferring to have financial assets. Many Indian customers have spent huge amount for buying consumer products from ecommerce sites at attractive discounts.

Gold and the dollar
Gold and the dollar have an inverse relationship as they tend to move in the opposite directions.
Gold has been slipping further as the dollar surged. A stronger US dollar has put the precious metal under pressure. Furthermore, speculation that the US Fed Reserve will raise its key interest rate before the end of this year has impacted international gold prices.