Asian markets have gained after the US central bank opted to hold off its lending rates
As widely expected, the US Fed Reserve has decided to wait further for another benchmark interest rate hike. Announcing its decision to keep the rates unchanged the Federal Open Markets Committee (FOMC), the monetary policy-making body of the US Federal Reserve, said, "The Committee judges that the case for an increase in the federal funds rate has strengthened but decided, for the time being, to wait for further evidence of continued progress."
Despite a growing US job market, the wages have not been rising far enough. Typically, the Fed Reserve raises the fund rate when the economy is growing too fast. People spend less and save more money as the interest rates become dearer. Weakened money flow in the market pulls down the inflationary pressure and the economy slows towards the Fed target inflation rate of around 2 per cent. 
After the Fed decision, for the time being, the target for the federal funds rate will continue to be between 0.25 and 0.5 per cent. During recession years from 2006 to 2015, the Fed's interest rate was set at between 0.0 per cent and 0.25 per cent. In December 2015, the rate was hiked by 0.25 per cent.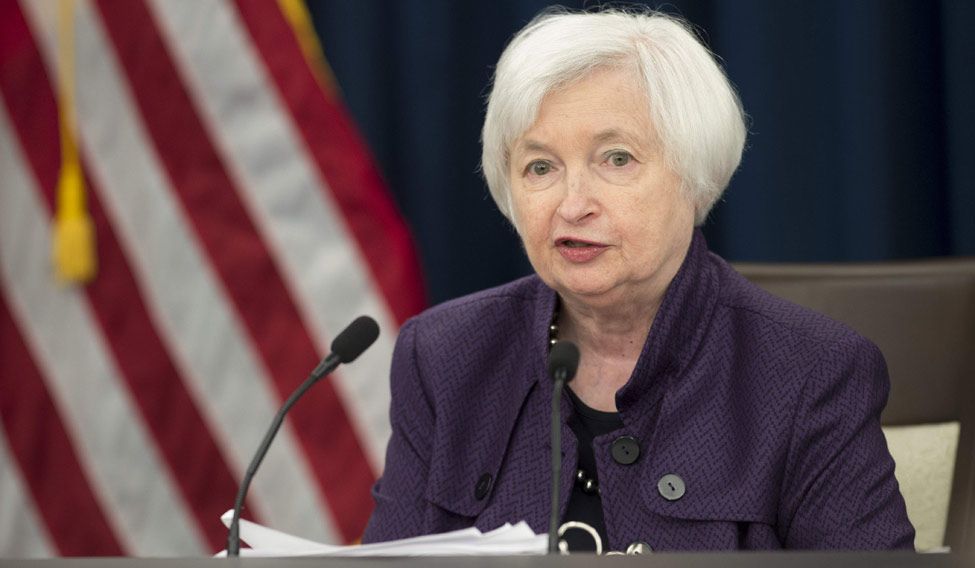 Federal Reserve Chair Janet Yellen speaks during a press conference following the announcement that the Fed will leave rates unchanged, in Washington, DC, September 21, 2016 Photo: AFP
The Fed is keen to raise the interest rate once this year. But in order to avoid a wave of violent turmoil in the global market, the policy makers intend to have only "gradual increases" in rates. But a hike may not be possible in the next meeting of FOMC, to be held in the first week of November, as it may create confusion during the forthcoming presidential election. Therefore the market watchers expect the next interest rate hike when the group meets in mid December. 
Markets upbeat
The decisions to hold off on interest rate hike by both the central banks of the US and Japan have a positive impact on the emerging economies. As cheaper capital started pouring from the US and Japan owing to lighter monetary policies, Bloomberg says, stocks and commodities have rallied across Asian markets. Bonds market, too, is showing the same trend in Asia.
In India, the BSE benchmark Sensex has rallied by 365 points and the NSE Nifty advanced by 108.65 points to reclaim the 8,800-mark in early trade.
The bullion market breathed a sigh of relief as the Federal Reserve decided not to lift its key interest rate. Precious metals tend to be less attractive for investors when interest rate is hiked. A weaker dollar too helps the gold market. As the borrowings continue to be cheaper, bullion is a favourable option for the investors. Market watchers expect gold prices to ascend higher through till the end of this year. 
After rising more than 1.5 per cent in the prior session, gold prices have slipped as investors turned to equities.
A weaker dollar is pushing the crude price up, but market is reacting mostly to inventory changes. As the current global production continues to be higher than consumption, analysts say crude prices will remain in the present range.