What India can learn from Australia's experience in dodging recession for a quarter century
Australia is poised to achieve a rare economic feat. It streaked recession-free for 25 years since its last recession ended in June 1991. Australia has not had two consecutive quarters of negative growth in the last 100-quarter period. No other advanced country has remained recession-free for such a long time and over the same period that included the 2008 global recession. Now the country is all set to break the Dutch record of just one more quarter created between 1982 and 2008.
The Reserve Bank of Australia's monetary policy statement on March 7 struck an upbeat note on the economy. In the wake of recent bounce back in growth figures, its key interest rates have been left untouched at a record low of 1.50 per cent.

Uneasy times
This is the 26th year of economic growth for Australia. All through these years, its economy continued to expand in spite of market fluctuations, rising unemployment and negative growth in a few quarters. The turnaround in the quarter after every fall has been magical.
Australia was able to face up to the 2008 recession that swept the globe with its lessons learned from managing the past financial crises.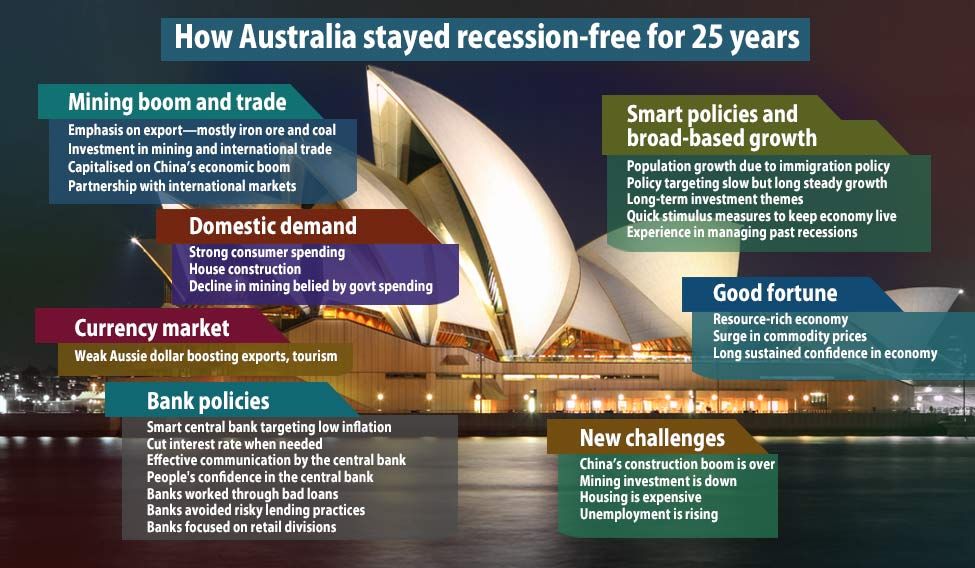 China, banks and stimulus
Mining and agriculture form the traditional financial backbone of resource-rich Australia. Global commodity prices have a huge impact on the country's economy.
Market analysts credit three main factors for Australia's uninterrupted economic growth: China's construction boom, Australia's bank policies and the fiscal stimulus that pumped money at any time the economy headed for a technical recession.
Australia's growth story is running parallel to or synchronous with China's stunning growth. It capitalised on Chinese infrastructure growth that hiked up demand for iron ore and coal, the highest-valued export commodities of Australia. The Chinese spending spree for raw materials propped up investment in Australian mining industry. Strong exports and consumer spending resisted any recession trend in the country all through the Chinese infrastructure boom time.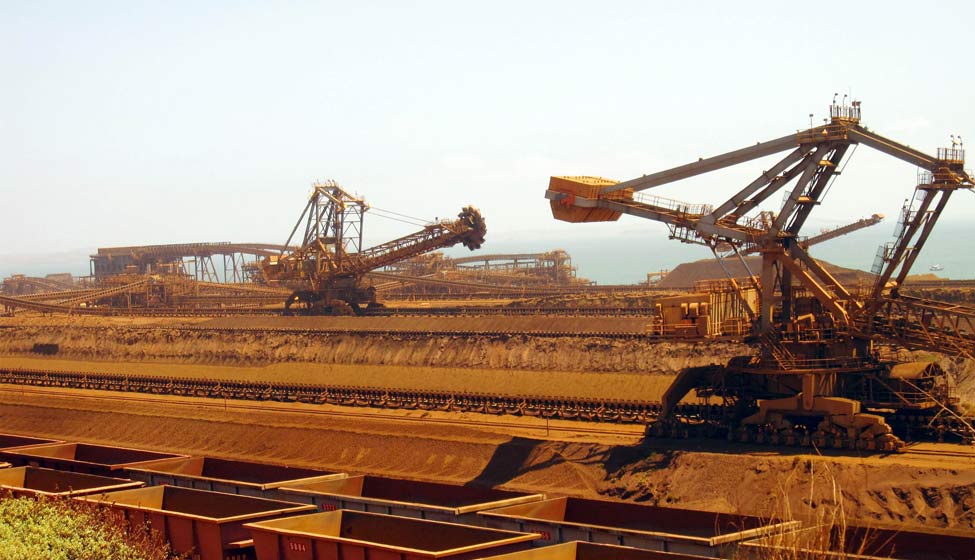 Remote-controlled stackers and reclaimers moving iron ore to rail cars in Western Australia's Pilbara region. File photo: AFP

Exports fall
Australia's economy has almost faltered in the recent years owing to weak exports. The Aussie mining boom has been chilled by a subdued demand from China in the last three years. Shipments to China fell as the Chinese model of economy transformed itself into a more market-based one.
The low ebb due to fall mining investment was overcome by a pre-election spending spree by the government, investment in housing and domestic spending.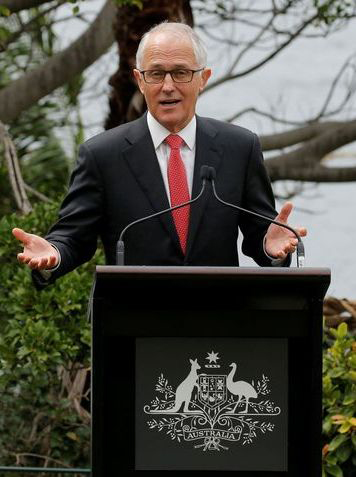 Australian Prime Minister Malcolm Turnbull. File photo: Reuters
At the same time, banking strategies gave resurgent power to the economy. Australian banks worked through the pain of fighting non-performing loans. The reserve bank lowered the key interest rates to keep inflation well within the target limit. Its quick interventions helped easing of lending rates in the downswing economy. The bank boosted people's confidence by updating them what it was intending to and also what it had done already.
When the value of the Australian dollar plunged, inbound tourism flourished and exports slightly gained with competitive pricing.
Any sign of weakness in the international trade was compensated by turning attention to domestic trade. During emergencies, fiscal stimulus measures turned up the economy. Australia carefully avoided any recession trend by quickly intervening in the domestic market, and the economy picked up in the next quarter to become recession-free.
Australia's economic growth is picking up after a short period of gloom. Inflation is rising, but well below the policy band. The reserve bank is projecting a 3 per cent growth this year.

Unfazed confidence
Australia is trying to evolve from a natural-resource-based to a broad-based economic growth.
Key commodity prices have come around and exports are on the road to recovery. Business and consumer confidence remain high as the economy is gaining momentum. The outlook for the next year is pretty good—growth prediction by economists and the reserve bank for next year varies from 2.5 to 3 per cent.
A recession is unlikely in the near future and Australia will ride past breaking the Dutch record of long recession-free years. However, the country needs to flesh-out taxation reforms to boost investment and domestic spending.

India's take
Protectionism is raging in the world. Trade pacts are crumbling and anti-globalisation trend will continue to weaken international trade. India has to look up to its domestic market to survive the dark clouds.
India will be better placed to improve its investment climate with the implementation of Good and Services Tax. Australia had unhindered economic progress in near-recession times as the banks supported business with the lowest lending rate. Indian banks have huge bad loan problems. Banks have to work through their stressed assets before they can lend a hand.
Indian banks have to work through their huge bad loans. File photo: Reuters