There is a hue and cry every time restrictions are imposed either on the data services—both fixed line and mobile—or on the movement of locals and resources in J&K. While the six fundamental rights enshrined in the Constitution guarantee liberties to all Indians, the proxy war environment necessitates imposition of certain restrictions that allow enhanced surveillance of the population and impede the manoeuvring of terrorists and their overground workers. These restrictions on civil liberties in a strife-torn area are directly proportional to the degree of violence perpetrated by the terrorists.
Terrorists cannot survive without local support. They have to rely on the populace for daily needs such as food, water, clothing, medicines, navigation, hideouts, SIM cards, move of warlike stores and information regarding security forces. Population and resource control measures along with human and technology based surveillance, therefore, constitute an important component of the counter proxy war strategy. It helps to isolate the terrorists, disrupt their plans and help government agencies generate useful intelligence. Some of these measures include issuing identity documents to own people, establishing pedestrian and vehicle check posts, imposing lawful curfews to detect inimical movements, regulating entry into vital areas and monitoring the excessive sale of various 'commodities'.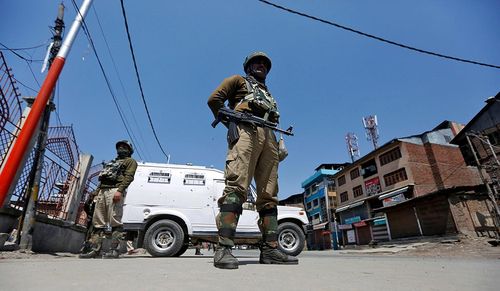 Pillars of peace: Policemen in Srinagar during a curfew | REUTERS
While these measures help in choking the logistic sustenance to the terrorists besides helping in lighting up the area, from the intelligence point of view, their mindless implementation can be a cross-purpose to the overall campaign strategy. For operations to be people friendly, these measures have to be instituted when required and implemented with imaginative dexterity. Restrictions should be lifted solely based on ground realities. Premature easing out of restrictions for narrow political gains should be ruthlessly curbed.
From the human rights perspective, the security forces have consistently displayed exemplary restraint in the use of force besides scrupulously upholding the law of the land. Additional powers given under the Armed Forces Special Powers Act (AFSPA) have been utilised with utmost care and prudence. All alleged human rights violations have been investigated with diligence, and defaulting personnel have been severely punished. Such incidents account for just about 3.6 per cent of the total number of reported violations. Rest are fabricated human rights violations by terrorists, their supporters and shady foreign-funded NGOs.
To ensure that the people understand the rationale for the imposition of restrictions on civil liberties, compatible public information and perception management initiative is a must. Thanks to the fourth estate—especially the electronic media—a strong government at the Centre has been able to put an end to the ugly debates on AFSPA. It is important that the people realise that, in effect, they are the 'rheostat' that can increase or decrease the violence levels by their ethical or unethical conduct.
India ranked 32nd among 165 nations in the 'Democracy Index 2016' published by The Economist Intelligence Unit. In the civil liberties, India ranked 23rd with a score of 9.12 on a scale of ten. Only Norway, New Zealand, Canada, Ireland, Australia and Uruguay earned full points. These countries, unlike India, have had a peaceful internal security environment in the last decade. Given the challenges of internal security, India's grading on the civil liberties is quite impressive. However, as a robust democracy, we must aspire for the top slot, which undisputedly requires people's commitment.