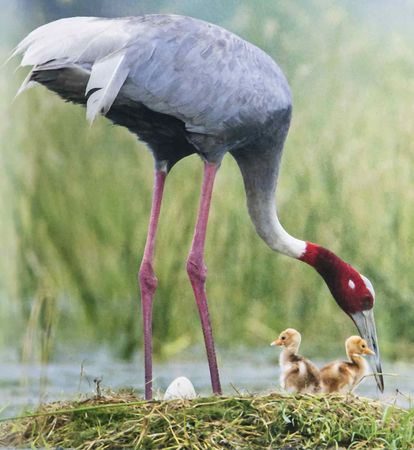 Magnificent migrant: Sarus crane with chicks and egg | Courtsey: Aleph Book Company
The tiger has been central to Valmik Thapar's work and public identity. But, in Winged Fire, he focuses more on feathers than fur. Of course, with him, everything is somehow linked to the striped cat. Even his relationship with birds began while trailing tigers. Some of his best tiger spottings were courtesy the common crow, his favourite bird. Maybe this book is his way of paying back these feathered guides. Especially the rufous treepie, aka tiger bird, thanks to its black-orange-white plumage.
Winged Fire completes his trilogy, other volumes being Wild Fire and Tiger Fire. All three have been beautifully produced, lush with pictures. Eighty contributors and around 40 photographers have collaborated on the last volume, which took him the longest to put together. But, Thapar insists: "This book is neither technical in nature nor it is about numbers, diversity or scientific terminology."
The book is divided into three parts. The first is a tour of wildlife sanctuaries, from Eagle's Nest in Arunachal Pradesh to Thattekad in Kerala. There is the first-hand account of Ramki Sreenivasan, wildlife photographer from Bengaluru, about photographing the Bengal florican in Manas National Park, Assam. Ramki stitched 35 frames to produce one iconic image. He also writes about the massacre of Amur falcons. Before he saw a live one, he saw hundreds of dead ones on sale in Nagaland.
The second part is flashback: 500 years of 'bird-writing'. Emperor Babur appears, so does his great-grandson Jahangir, who has many birds named after him. Then come Frank Finn, Jim Corbett and Ruskin Bond. There is a trove of information from Mughal courts, mainly on hunting techniques.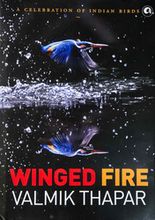 The last part is titled Winged Fire, an album of Indian birds shot by 37 photographers. Wonderful images of hope and beauty, they testify that patience pays. The nesting Sarus crane and chicks, and the bronze-winged jacana with chicks hiding under her wings have stayed with me. Winged Fire is a gift for those who want to watch birds sitting at home. And, for those who brave the weather to go birding.
Winged Fire: A Celebration of Indian Birds
By Valmik Thapar
Published by Aleph Book Company
Price Rs 2,995; pages 510