Senior corporate executive Robin Banerjee's book is a detailed account of corporate misdemeanours committed and exposed in India and the west, with occasional references to companies of Chinese, Japanese and Korean origin. Divided into nine chapters, the book covers subjects ranging from banking, quick-rich financing schemes and stock market swindles to cybercrime, accounting fraud and negligent, even fraudulent, auditing.
The book works as a ready reckoner of sorts for those seasoned in the workings of the corporate world and finance, and as a myth-buster for the lay reader who may discover that many of the corporations they held in high regard have feet of clay. From the much-publicised 2G spectrum scam in India and Enron's balance sheet shenanigans to the lesser-known tales of Apple evading taxes through subsidiaries in tax havens and an anti-competitive agreement between Christie's and Sotheby's, Banerjee covers it all. He also explores the reasons behind the perpetration of corporate fraud, thus justifying the book's title.
What makes the book connect with readers is that most of the cases covered in it have surfaced in the past decade and a half. Banerjee's research is thorough and he is especially good in the chapter on accounting fraud, where he details arguably every means of financial engineering employed by executives to hoodwink people. It can be a guide to shareholders who wish to make better sense of the balance sheets of the companies they have invested in.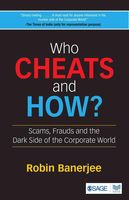 Although Banerjee takes care to demystify concepts that may seem abstruse to lay readers, parts of the book, such as those about trade in derivatives, may still elude their comprehension. Also, the book suffers from the problem of repetition and could have been proofread better.
Who Cheats and How?: Scams, Fraud and the Dark Side of the Corporate World
By Robin Banerjee
Published by SAGE Publications India Pvt Ltd
Price Rs475; pages 336