After a collection of delightful short stories called Breathless in Bombay comes a witty novel by Shroff—Waiting for Jonathan Koshy. Shroff has created an endearing character, Jonathan Koshy, the son of a journalist and a teacher, who is wildly wicked and side-splittingly funny with an extremely sensitive side to him. This is a young man with extraordinary ideas and demonstrates great finesse in rolling "the best joints with clean, crisp Kerala Grass" and sets the dance floor ablaze with his fluid movements.
Shroff, undoubtedly, is a fine storyteller, adept in the use of words, whose writing is nothing short of elegant. He has penned the novel with several plot lines that have been liberally sprinkled with whiskey, weed and whoring, all of which lead to delicious and uproariously funny escapades. However, it isn't without some sombre moments that implore you to contemplate the four-letter word called life.
Adventures abound as the story skims through the backwaters of Kerala, where we learn more about Jonathan's preference for "top grade marijuana, pure Idukki Gold" and reaches Lajpat Nagar in Delhi, where he 'seems' all grown up as he nurses his father back to health.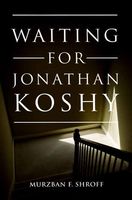 So, get ready to soar with Jonathan, whom Shroff describes as "a bird in flight", and who, like Jonathan Livingstone Seagull, teaches "other seagulls to fly". Therein lies the soul of the novel that offers dollops of reading pleasure and makes Jonathan Koshy one of the epic characters in contemporary Indian literature.
Waiting for Jonathan Koshy
By Murzban F. Shroff
Published by Independent Thinkers
Price Rs295; pages 186