A riddle, wrapped in a mystery, inside an enigma. Winston Churchill's famous description of the Soviet Union and its mysterious ways may no longer suit Vladimir Putin's Russia. But it fits the bill perfectly for Tibet. K.N. Raghavan's new book Vanishing Shangri La: History of Tibet and Dalai Lamas in 20th Century is an attempt to unravel the mystery of Tibet and present its case before the world by focusing on an era that saw the Tibetans and their leader being forced to flee Shangri La, their paradise nestled in the Himalayas.
Divided into seven chapters, the book portrays the travails of the Tibetans and their homeland. What perhaps made things worse for Tibet was its strategic location and the vagaries of great power politics. Three major powers—China, Russia and Britain—were intrigued by the mystique of Tibet, even as they were desperate to gain a foothold in the Forbidden City. Decades of great power rivalry and its own internal contradictions left Tibet weak, and after the death of the 13th Dalai Lama, it was left rudderless till 1950 when the new Dalai Lama took over. But by this time, the Chinese control over Tibet became nearly absolute, especially in the temporal sense, forcing the 14th Dalai Lama to flee to India in 1959.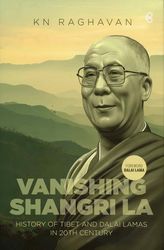 But Vanishing Shangri La does not end on a gloomy note. The last chapter, titled A Peep into the Future, offers a word of encouragement for the Tibetans. Raghavan says "struggles for upholding the dignity of mankind have never met with failure.... More powerful empires than the nation states existing today have been brought to their knees by popular struggles.... Tibetans should find sustenance from these historical facts." The Dalai Lama, who has written the foreword to this book and has also given Raghavan an interview, seems to share his optimism. He says Chinese President Xi Jinping appears more realistic in his thinking. "He seems to realise that the existing hardliner policy is counterproductive," says the Dalai Lama.
Based on exhaustive research and analysis, Vanishing Shangri La lays bare before the world's conscience the trials and tribulations of the Tibetan people and adds to the scholarship about a critical topic.
Vanishing Shangri La: History of Tibet and Dalai Lamas in 20th Century
By K.N. Raghavan
Published by The Book People
Price Rs 545; pages 262