The idea of understanding Mahatma Gandhi, Jawaharlal Nehru, B.R. Ambedkar, Vallabhbhai Patel and Subhas Chandra Bose in today's context will make us jump the gun and look at things through the prism of patriotism and nationalism. For, a discourse on issues and the leadership of these founding fathers of the Indian republic have remained on the front burner since Narendra Modi led the BJP to power, on his own, in the summer of 2014.
In his book, Understanding the Founding Fathers: An Enquiry into the Indian Republic's Beginnings, Rajmohan Gandhi dwells into the issues raised by two people who are not really in the news now. First is Swami Sachidanand, born Nanalal Trivedi in Gujarat in 1932. Sachidanand, in his writings, had voiced views that were not liked by many of the followers of the Mahatma. He told Rajmohan that he was a great admirer of the Mahatma and had a picture of the Mahatma on his wall. But, when China attacked India in 1962, and our army retreated, Sachidanand felt humiliated and threw the portrait into the Ganges. Mahatma's ahimsa had weakened India—or so he thought.
The second person mentioned is Prof Perry Anderson, a scholar-author in his own right, and brother of Benedict Anderson, who is known for bringing clarity on what nations are and are not.
Perry believed Gandhi was an anti-Muslim who forced Pakistan on an unwilling Jinnah and helped fashion a Hindu state where Muslims would play second fiddle to Hindus.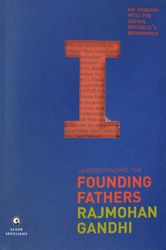 Most of the 138 pages of the book constitute a point-by-point analysis of what the Swami and Anderson have said. A lot of it may be in the public domain, but reinforcement is necessary. Rajmohan has written to set the record straight. More importantly, he ponders on what drives such complaints. He talks about the failure of the early leadership to recognise the master-servant relationship between rulers and the people as the great problem that it was and is.
As Rajmohan says, the book is the tip of an honest examination. It is a reflection of the present-day India, which has to be made distinctly better for all its people, and especially the most vulnerable, by the time we mark the hundredth anniversary of freedom.
Understanding the Founding Fathers: An Enquiry into the Indian Republic's Beginnings
By Rajmohan Gandhi
Published by Aleph Spotlight Price Rs 299; pages 138