What's the link between P.G. Wodehouse and the dusty town of Allahabad? No, it has nothing to do with books. His elder brother, Ernest Armine Wodehouse, taught in the university. No prize for guessing the subject.
However, all that exists of his stint in this sprawling campus, as Neelum Saran Gour puts it evocatively, is a "ghost of a rumour" that he taught here. Packed to the gills with anecdotes, Three Rivers and a Tree is a lively chronicle of Allahabad University. "It is the collective memories of several generations," Gour says with a smile.
A professor in the university, Gour unearths the forgotten ghosts of rumours to breathe life into them. So, there is the account of several English teachers, delightfully Dead Poets Society, who are eccentric, brilliant and generous. "History edits and erases more than it preserves," writes Gour. To her credit, the book isn't about history, but it is peppered with facts. It is about students, tradition and education. Allahabad University was the place of learning for Indian heroes, including Motilal Nehru, Madan Mohan Malviya, poet Firaq Gorakhpuri and the original Bachchan—Harivansh Rai.
The book is specific to the city and the campus, yet, the university is reminiscent of many other places of learning in India that, over the years, have moved past their prime. Yet, somehow, she finds a way to turn away from bleaker aspects of the present. "I have been called stupidly optimistic. Every story has a darker truth... I chose the better," she says.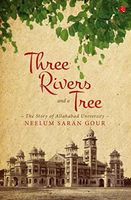 Gour does bring in the changes that have swept through the campus. The university hasn't been able to escape the decline that has come with politics of polarisation and violence. Corruption is also an issue. "We have become more regressive. We were modern people then, we are medieval now," she says.
Three Rivers and a Tree: The Story of Allahabad University
By Neelum Saran Gour
Published by Rupa
Price Rs.295
Pages 364