Shiv Visvanathan is referred to as a scholar, social thinker, public intellectual and social scientist. In his Twitter handle, he uses the rather interesting phrase 'social science nomad'. A kind of vagabond and, I would even say, observant loafer! What makes him special is his natural ability to see all that is behind the veil without having to lift it.
Every essay in Theatres of Democracy is brilliant, filled with his vision and insight. The editor of this anthology, Chandan Gowda, has brought together a sparkling collection that traverses a decade or more of Visvanathan's writings and sets the stage for Visvanathan's eclectic characters to shine in all their complexities. And as he has rightly pointed out, Vishvanathan brings the social sciences out of their slumber.
This collection covers a broad spectrum of subjects and socio-political arenas but that is not what makes it riveting. In fact, it must not come as a surprise that a social scientist has such a wide range of interests. What makes it, or for that matter anything Visvanathan writes, precious is the intentionality in his thought. Unlike a clinical academic, Visvanathan is a wild, uncontrollable romantic, a seeker who is never satisfied with the idea of comfort! He revels in turbulence, disturbance and the unsettled. He knows only too well that it is in discomfort that we can see ourselves and those around.
Hence, in every essay, be it a scathing attack on Prime Minister Narendra Modi or an ode to the erstwhile middle class Indian, the vulnerability of the author is revealed. I have rarely come across this level of honesty in socio-political-cultural commentary. Somewhere within the narrative, like in the best of fiction writing, the author's own truth gloriously appears. And when this comes from a deeply ethical, honest place, it illuminates every word, phrase and idea, giving it that much more strength.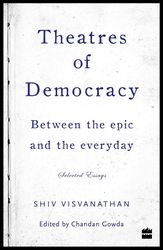 If there is one word that Visvanathan seems to love, hate, embrace, celebrate and berate, it is 'ritual'. Even when we have enigmatic section titles, a reader often wonders what it is that unites the sections. Visvanathan's ritual for me is that link. Through the use of that word, he shows us the problems in mindlessness, habituation, nostalgia and the contrivance in the past-present-future construct. At the same time, he celebrates the art of living that is embedded within these rituals. This makes for an interesting struggle between the limiting and the celebratory. This tug-of-war is an observation of life, people and the self. By using this as the cog in the wheel, Visvanathan has gifted us a book that brings Baba Ramdev, DNA, Jairam Ramesh, Sachin Tendulkar, Singur, Mayawati, Manipur and the Maruti 800 together in one operatic loaf.
Theatres of Democracy
By Shiv Visvanathan
Published by HarperCollins
Price Rs 699; pages 448