The author and the translator of The Hangwoman have tied another literary knot. And Slowly Forgetting That Tree by K.R. Meera is a melancholy novelette that will make readers pause, ruminate and ask a few questions. Are women born to suffer? Do they exist only to cosset the ego of men? Why do men spew so much rancour at women? Translated into English by J. Devika, the novelette portrays the susceptibility of a 36-year-old woman called Radhika, a lawyer.
Raped at age 10, and raped again by her lover, Christy, in college, Radhika was abandoned twice in life: first by her father and then by Christy, who leaves her on the day of wedding. After 16 years, Christy, unhinged and shattered, meets Radhika. Radhika by then is married. But the shrivelled roots of love blossom once again, much to Radhika's agony. Reluctantly, she falls for Christy.
Radhika's life is encumbered with faithlessness and loneliness. The novel explains in detail the physical and emotional violence that Radhika has to weather time and again. She is first raped by a woodcutter when her father abandons her at a neglected bus stop to meet the famous local prostitute. The memory of the transgression revisits Radhika at different stages in her life, invoking intimate pain. Her sufferings and trauma refuse to leave, as if they are chained to her mind and soul.
Meera focuses on the Indian man's beastly craving for sex. She is almost detached as she narrates the journey of Radhika, who, in a traditionally matriarchal society like Kerala, is an object of patriarchal ascendancy.
All sympathies to Radhika, but why is she so delicate? Why did she forgive Christy? Why was she ready to risk her professional reputation for an insane friend, who had the audacity to rape her near his mother's grave before abandoning her?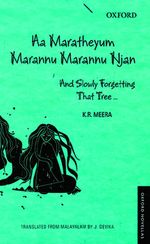 And Slowly Forgetting That Tree is a touching story. As Meera says, "The story of Radhika and Christy took shape from the whirlpool of experiences, fantasies and fears." And she compliments Devika for the fine translation: "The dream I have in one language, she interprets for the world in another."
This literary pair will go far.
And Slowly Forgetting That Tree
By K.R. Meera; translated from Malayalam by J. Devika
Published by Oxford University Press
Pages 80; price Rs250.