Which is the most common animal imagery about India? An ambling elephant? A ferocious tiger? A royally lazy lion? A sacred cow? All these animals have been dumped on us in herds and packs by economic writers, so much so that we have come to look at most books on Indian economy as pure dung.
Not this one. T.N. Ninan, one of India's finest economic editors, uses an animal imagery, but the most appropriate one—the tortoise. May not sound very flattering, but this book is not a flattering account of the so-called India story. Nor is it a damning critique of India's dunghills. As the subtitle suggests, it is about both challenge and promise.
Come to think of it, the tortoise imagery fits India most. Slow-moving to the extent of being immobile, cautious to the extent of being cowardly; withdrawing at the slightest hint of danger. But hard-shelled, not-so-easy to break and, for all you know, the one that could win the race in the end, like in the fable. But till it wins, the bets are off.
Fairly early in the book, Ninan points to the inherent flaw in the India story—India has been growing without manufacturing much, whereas China has been growing by manufacturing, rather solely by manufacturing. The second factor, the mad rush into the resources sector, where rules have been absent, also proved to be fuelled by the lure of cronyism and corruption.
The issues are discussed not just within the narrow framework of economy management, but in the larger context of political economy and even public administration.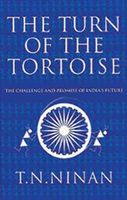 After a study of the political economy of India, the author moves on to hazard certain guesses on the course that India could take in the next decade. One prediction is that the markets will grow manifold in scale. Second, the state will "unwillingly" retreat from most sectors it is now involved in. Third, the power fulcrum will increasingly move from the Centre to the states. And, fourth, there will be intense tug-of-war between the forces of liberalism and control.
The Turn of the Tortoise: The Challenge and Promise of India's Future
By T.N. Ninan
Published by Allen Lane/ Penguin
Price Rs.699; pages 354