The Eighth Ring is not just the life story of K.M. Mathew (former chief editor of Malayala Manorama); it is much more. It is the story of birth, and rebirth, of one of the best papers of modern India; of the last days of the Travancore state; of Kerala in all its hues; and of Malayala Manorama's symbiotic relationship with its people—they seem to be made for each other.
Kerala and the people, their hopes and despair ooze out of Mathew's autobiography as also from the pages of Malayala Manorama. Across this fairly detailed personal story, there also runs the story of his family, his father, K.C. Mammen Mappillai, and mother, and of the well-knit clan that came to grow around the beautiful backwaters of Kerala. From a small beginning, the family came to set up a major bank, an insurance giant of a company with its wings spread across the country, plantations and a rubber industry, beginning with making rubber balloons in Bombay that eventually led to the making of MRF tyres. It was an early instance of a 'Make in India' mission.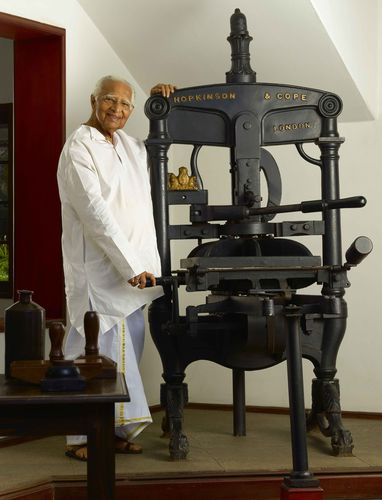 Man and his machine: K.M. Mathew with Malayala Manorama's first printing machine at Kottayam.
The dearest child of the family was Malayala Manorama, which began its long journey with just six pages, printed on a handset press, with no idea of layout or design. But it was equipped with the desire to play a role in the social and political growth of the people of Travancore and, after its merger, of Kerala. The founder, Kandathil Varghese Mappillai (Mathew's great-uncle), established the paper way back in 1888, around the time the Indian National Congress was born. Little did he knew then that the seed he was sowing would become a major force in Kerala one day, and also emerge in his grandson's time as one of the most important newspapers of Kerala, and the country.
Newspapers grow at an appropriate time on congenial soil and in a favourable social and political milieu. Kerala was going through vast social and economic changes in the 19th and the early 20th centuries. Education was spreading in many parts of the country, but the people of Kerala took to it like the delicious karimeen of its backwaters. Social churning was on; there were agitations over the Vaikom temple being thrown open to lower castes. Narayana Guru, one of the greatest sons of Kerala, was campaigning for ending untouchability. The freedom struggle had also crept into Kerala. It came naturally for Malayala Manorama to support the social, political education movements and campaign for abolishing untouchability in Kerala's caste-ridden society. History was taking a turn for the better in Kerala, and Malayala Manorama was on the right side of history.
Not all was going hunky-dory for Malayala Manorama and the family though. As the family businesses grew and at a time when Malayala Manorama had over the years become a powerful presence in Travancore, Sir C.P. Ramaswami Aiyar happened to be its dewan. He wanted to emerge as a powerful figure in the state, but the wealth of the family and Manorama's popularity were blocking Aiyar's designs for grabbing more power. K.C. Mammen Mappillai, who had taken over as chief editor, would not bend before Aiyar's authoritarian ambitions.
Mathew's book is full of gratitude to most people, big and small, for little things they did for the family and the newspaper. Only one person earns the title "villain" in his story—Aiyar. Mathew has described in detail how Aiyar was given to megalomania, and how he had tried to crush the paper and the family's business empire.
Aiyar chose to launch a severe attack on the paper and the businesses that backed its growing clout. Through intrigue, unsavoury moves and enormous power at his command, he brought about the collapse of the bank and forced change in ownership of its insurance business. The worst blow was K.C. Mammen Mappillai's arrest and the imposition of censorship and the closing of the paper, all to satisfy Aiyar's sadistic pleasure. In a way, Malayala Manorama was to experience Emergency, much before the country did in 1975. Appachen, who had emerged as a major figure on Kerala's sociopolitical landscape, was put behind bars like an ordinary criminal. Mathew's own education was interrupted, as the shocking news of his father's arrest came to him at Tambaram railway station. The comfortable world around the happy-go-lucky young man had collapsed.
K.C. Mammen Mappillai and Malayala Manorama's troubles lasted nine long years and ended about three months after India became free; the paper had sort of gone through a baptism of fire.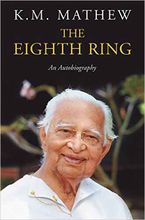 It later turned out to be Mathew's responsibility to lead the paper and make it a major daily. Mathew's success lay in his vision and capacity to build the paper brick by brick by encouraging teamwork and by being ahead of other papers in using modern technology. His basic plus point remained in the bonds he had with the people of Kerala, and having a forward-looking approach on national issues. No wonder, when he passed away five years ago, millions turned up at his funeral. They thought it was their personal loss, too.
Dua has been editor of several national dailies, ambassador, media adviser to the prime minister, and a nominated member of Parliament. He recently joined the Observer Research Foundation, a New Delhi-based think tank.
The Eighth Ring: An Autobiography
By K.M. Mathew
Published by Penguin-Viking
Price Rs699; pages 391