I cannot work with this man. Everything cannot be measured in terms of electoral gain or loss, the battle against Narendra Modi goes beyond merely electoral battles, it is a battle of ideas." That is what Bihar Chief Minister Nitish Kumar told journalist and author Sankarshan Thakur, before and after the BJP-JD(U) government in Bihar broke up. Nitish Kumar, as the chief ministerial candidate of the Grand Alliance, is facing non-candidate Prime Minister Narendra Modi as the face of rival National Democratic Alliance (NDA) in the Bihar assemble elections.
The Brothers Bihari, which is a reworked and updated version of his previous books on Nitish Kumar and Lalu Prasad Yadav, was released to cash in on the biggest electoral battle of the year. In his book, Sankarshan dwells on the ideas that are dear to Nitish Kumar, as well as the depths of the CM's dislike for Prime Minister Narendra Modi. He is the "this man" Nitish cannot work with. The author states the obvious when he says the differences between the two leaders are "deep and critical".
Modi's politics are seen as an "unapologetic and often belligerent" articulation of Hindu nationalism that scares the minority and taunts the prevailing notions of secular India. Modi does not accept the idea of religious minorities, much as the Constitution of India may. He has stubbornly declined to apologise for the killing of thousands of Muslims under his watch, with his supporters claiming it was in retaliation Godhra carnage when a railway coach carrying Hindu pilgrims was burnt down at the Godhra railway station.
Nitish's politics, however, espouses the socio economic rights of not only minorities but also the underprivileged caste and class groups.
While Modi's politics gain strength from his idea of ending "minority appeasement", Nitish believes these are commitments that a pluralist nation cannot shy away from. "Any leader of India has to find acceptability among a wide cross section of people, else, he or she is bound to fail what we understand to be the idea of India. I cannot work with anyone who poses a challenge to that idea, I will fight such a person, I will fight such an idea. It is not about retaining power or only about Bihar, it is about the kind of people we are, about the Indian ethos," Nitish tells the author.
It was also what clinched Nitish's decision to stun the BJP by marching to the Raj Bhawan in Patna, and telling then Governor D.Y. Patil that he was dismissing the BJP ministers and take a fresh vote of trust.
The idea of what Modi represents to Nitish, and that he will not do business with him, was not new. It had surfaced many times. Notably, when the Akalis had planned a rally in Ludhiana for the 2009 Lok Sabha polls and Nitish was persuaded to attend as a show of NDA unity. He was shocked, to find himself face to face with then Gujarat Chief Minister Narendra Modi. Worse, when Modi over enthusiastically took his hand and held it aloft for the crowd to see. It got worse when that photo made it to the front page of most dailies the next morning.
A year later, the picture showed up in the front pages of Patna's leading dailies as part of an advertisement. Placed by an unknown 'friends of Bihar', the ad thanked Modi for Rs5 crores flood relief money given by Gujarat. The entire BJP leadership was there for the party's national executive. Nitish thought it was mockery, a rude joke. And, thereafter, that famous cancellation of dinner invite.
In an interview later, Nitish Kumar told this correspondent that other states too sent relief, as is customary, whenever there are natural calamities anywhere in the country. Nobody advertises it, "It is humiliating. It hits our pride when such gestures are advertised" he said.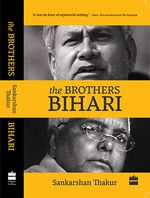 The Brothers Bihari
Sankarshan Thakur
HarperCollinsIndia
Pages 418
Price: 550